NAVYPEDIA Support the project with paypal
Photo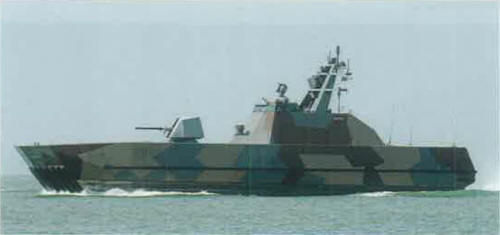 Skudd 2014
Ships
| Name | No | Yard No | Builder | Laid down | Launched | Comp | Fate |
| --- | --- | --- | --- | --- | --- | --- | --- |
| Skjold | P960 |   | Kværner, Mandal | 8.1997 | 22.9.1998 | 17.4.1999 | to USA 6.9.2001-5.9.2002 (Skjold), in service (2019) |
| Storm | P961 |   | Kværner, Mandal | 10.2005 | 30.10.2006 | 9.9.2010 | in service (2019) |
| Skudd | P962 |   | Kværner, Mandal | 3.2006 | 3.5.2007 | 28.10.2010 | in service (2019) |
| Steil | P963 |   | Kværner, Mandal | 10.2006 | 15.1.2008 | 30.6.2011 | in service (2019) |
| Glimt | P964 |   | Kværner, Mandal | 5.2007 | 15.8.2008 | 29.3.2012 | in service (2019) |
| Gnist | P965 |   | Kværner, Mandal | 12.2007 | 18.5.2009 | 7.11.2012 | in service (2019) |
100 - 1000 t displacement/ BRT tonnage vessels
Name No Yard No Builder Laid down Launched Comp Fate Skjold P960 Kværner, Mandal 8.1997 22.9.1998 17.4.1999 to USA 6.9.2001-5.9.2002 (Skjold), in service (2019) Storm P961 Kværner, Mandal 10.2005 30.10.2006 9.9.2010 in service (2019) Skudd P962 Kværner, Mandal 3.2006 3.5.2007 28.10.2010 in service (2019) Steil P963 Kværner, Mandal 10.2006 15.1.2008 30.6.2011 in service (2019) Glimt P964 Kværner, Mandal 5.2007 15.8.2008 29.3.2012 in service (2019) Gnist P965 Kværner, Mandal 12.2007 18.5.2009 7.11.2012 in service (2019)
Technical data
| | |
| --- | --- |
| Displacement standard, t |   |
| Displacement full, t | 273 |
| Length, m | 41.5 pp 47.5 oa |
| Breadth, m | 13.5 |
| Draught, m | 2.30 max 0.83 on cushion |
| No of shafts | 2 waterjets + 2 lift fans |
| Machinery | COGAG: 2 Pratt & Whitney ST40M gas turbines + 2 Pratt & Whitney ST18M gas turbines + 2 MTU 12V183 TE92 diesels for lift fans |
| Power, h. p. | 10880 + 5440 = 16320 + 2000 |
| Max speed, kts | 57 |
| Fuel, t | diesel / gas turbine oil |
| Endurance, nm(kts) | 800(42) |
| Armament | 1 x 2 Simbad SAM (4 Mistral), 1 x 1 - 76/62 OTO-Melara Compact SR, 2 x 1 - 12.7/90 |
| Electronic equipment | MRR-3D, CEROS 200, Bridgemaster E radars, Vigy 20, QPD e/o systems, CS-3701 ECM suite, 1x MASS decoy RL, SENIT 2000 CCS |
| Complement | 20 |
Standard scale images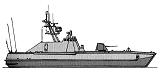 Skjold 2010
Graphics
Project history
Project 6081. Originally have been a class of 24 but the prototype was ordered in 1996 and five production versions only in 1999. The order for six succeeded vessels was eliminated from 1999 budget. Foam-core GRP construction, rigid-sidewall surface effect ships with IR and radio energy shielding , molded into the structure to reduce signature.
Modernizations
2012, all: + 2 x 4 NSM SSM (8 NSM)
Naval service
Skjold was leased by USN in 2001-2002 with Norwegian crew (but without armament and only with two Decca 1226 radars) for experiments.
© 2007-2022 - navypedia.org