Photo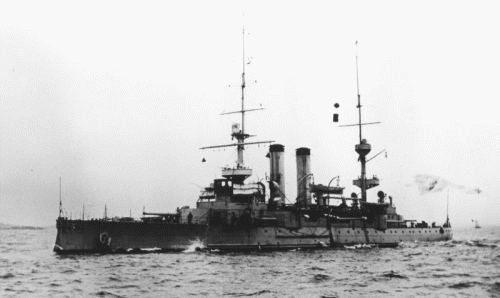 Eidsvold
Ships
| Name | No | Yard No | Builder | Laid down | Launched | Comp | Fate |
| --- | --- | --- | --- | --- | --- | --- | --- |
| Norge |   |   | Armstrong, Elswick, UK | 1899 | 31.1.1900 | 2.1901 | sunk 9.4.1940 |
| Eidsvold |   |   | Armstrong, Elswick, UK | 1899 | 14.6.1900 | 1901 | sunk 9.4.1940 |
Technical data
| | |
| --- | --- |
| Displacement normal, t | 3645 |
| Displacement full, t | 4166 |
| Length, m | 91.7 pp 94.6 oa |
| Breadth, m | 15.4 |
| Draught, m | 5.38 max |
| No of shafts | 2 |
| Machinery | 2 VTE, 6 Yarrow boilers |
| Power, h. p. | 4500 |
| Max speed, kts | 16.5 |
| Fuel, t | coal 550 |
| Endurance, nm(kts) | 6000(10) |
| Armour, mm | belt: 152-127, bulkheads: 152, NS; turrets: 203-152, deck: 51-37, CT: 152 |
| Armament | 2 x 1 - 209/44 Armstrong C, 6 x 1 - 149/46 Armstrong FF, 8 x 1 - 76/40 Armstrong N, 4 x 1 - 47/46 Hotchkiss, 2 - 450 TT (beam) |
| Complement | 266 |
Standard scale images

Norge 1940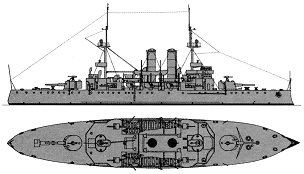 Eidsvold 1940
Graphics
Project history
Largest combat ships of the Norwegian Navy in both World Wars. They were designed in 1898, and were the further development of Harald Haarfagre class, differed by using of Krupp armour instead of Harvey, water-tube boilers instead of fire-tube and two funnels instead of one.

From the moment of completing up to the Second World War beginning both ships were not exposed to any significant modernisations: all was limited by installation of several AA guns. Nevertheless, by 1940 these ships were in fair technical condition and easily could keep 15kts speed.
Protection
Belt protected about 60% of ship length, its thickness decreased to 127mm at upper edge, belt was covered by 51mm main deck, turtleback-form 37mm main deck protected ship ends.
Modernizations
1927, both: + 2 x 1 - 47/46 QF Mk I

~1939, both: + 2 x 1 - 76/28 Bofors M36, 2 x 1 - 20/70 Oerlikon Mk I, 2 x 1 - 12.7/90
Naval service
Eidsvold 9.4.1940 was torpedoed at entrance to Narvik harbour by German destroyer Wilhelm Heidkamp, blown up and sunk. Norge 9.4.1940 was torpedoed in harbour of Narvik by German destroyer Bernd von Arnim, capsized and sunk.