Photo

Abraham Crijnssen
Ships
| Name | No | Yard No | Builder | Laid down | Launched | Comp | Fate |
| --- | --- | --- | --- | --- | --- | --- | --- |
| Jan van Amstel | A | 499 | P. Smit, Rotterdam | 3.1936 | 27.8.1936 | 3.1937 | sunk 8.3.1942 |
| Pieter de Bitter | B | 500 | P. Smit, Rotterdam | 3.1936 | 29.10.1936 | 5.1937 | scuttled 6.3.1942 |
| Abraham Crijnssen | C, 8.1946- MV1, 1950- M801 | 712 | Gusto, Schiedam | 3.1936 | 22.9.1936 | 5.1937 | to Australia 8.1942 - 5.1943, gate vessel A925 1952 |
| Eland Dubois | D | 713 | Gusto, Schiedam | 3.1936 | 24.10.1936 | 6.1937 | scuttled 8.3.1942 |
| Willem van Ewijck | E | 506 | P. Smit, Rotterdam | 1936 | 22.2.1937 | 7.1937 | sunk 8.9.1939 |
| Pieter Florisz | F, 8.1946- MV4, 1950- M804 | 507 | P. Smit, Rotterdam | 11.1936 | 11.5.1937 | 9.1937 | scuttled 14.5.1940, returned by Germany 8.1946, gate vessel A926 1952 |
| Jan van Gelder | G, 8.1946- MV3, 1950- M803 | 714 | Gusto, Schiedam | 10.1936 | 27.3.1937 | 9.1937 | to United Kingdom 3.1943 - 5.1945, gate vessel A927 1952 |
| Abraham van der Hulst | H | 715 | Gusto, Schedam | 11.1936 | 31.5.1937 | 10.1937 | scuttled 14.5.1940 |
| Abraham van der Hulst (ex-Willem van Ewijck) | MV2, 1950- M802 | 547 | P. Smit, Rotterdam | 1940 | 16.4.1940 | 8.1940 // 8.1946 | captured incomplete by Germany (M552), returned 5.1945, gate vessel A928 1952 |
Technical data
Displacement standard, t

460

Displacement full, t
585
Length, m

55.8 pp 56.8 oa

Breadth, m

7.80

Draught, m

2.00

No of shafts

2

Machinery

2 VTE, 2 Yarrow boilers

Power, h. p.

1600

Max speed, kts

15

Fuel, t

oil 110

Endurance, nm(kts)
4700(11)
Armament

1 x 1 - 75/52 SA Nr.2, 2 x 2 - 12.7/90, 40 mines, mechanical minesweeping gear

Abraham van der Hulst (ii): 3 x 1 - 20/65 C/38, mechanical minesweeping gear

Complement

45
Standard scale images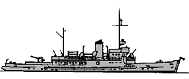 Abraham van der Hulst 1946

Jan van Amstel 1937

Abraham Crijnssen 1950
Graphics
Project history
Largest and most numerous Dutch purpose built minesweepers. Design was developed on the basis of A class minesweeper with significantly increased dimensions and intended for service both in mother country waters, and in colonies. The successful ships as which most significant lack bad conditions of habitability were considered. With the Second World War beginning the order for 4 ships was given out, but only one ship was laid down; in the beginning of 1940 2 more ships were ordered, but their building did not begin.
Modernizations
1942 - 1943, Abraham Crijnssen, Jan van Gelder: - 1 x 1 - 75/52, 2 x 2 - 12.7/90; + 1 x 1 - 76/40 12pdr 12cwt QF Mk I/II/V, 2 x 1 - 20/70 Oerlikon Mk II/IV

late 1940s, all survived: were armed with 1 x 1 - 75/55 SA Nr.2, 4 x 1 - 20/70 Mk IV, 40 mines, mechanical minesweeping gear
Naval service
Willem van Ewijck was lost 8.9.1939, having mined on Dutch defensive minefield. Also Jan van Gelder was simultaneously mined, but she was salvaged and repaired. Jan van Gelder 26.3.1943 was transferred to RN and returned in 1945. Since 1950 she was used as netlayer, stricken in 1961.

Pieter Florisz and Abraham van der Hulst were scuttled at Enkhuizen 14.5.1940; they were salvaged by Germans and commissioned by Kriegsmarine as M551 and M553. Incomplete Willem van Ewijck (ii) was captured by Germans on a slipway and completed as M552. M553 was lost 20.8.1944; others two have been returned to the Netherlands in 1945, M551 has received a former name Pieter Florisz, and M552 was renamed Willem van Ewijck. Pieter de Bitter 6.3.1942 was scuttled at Surabaya. Eland Dubois 8.3.1942 was scuttled at Madura. Jan van Amstel 6.3.1942 was damaged by Japanese aircraft at Surabaya and 8.3.1942 sunk by Japanese destroyers at Madura. Abraham Crijnssen since 26.8.1942 till 5.5.1943 was transferred to RAN; in 1996 she was transferred to a naval museum in Den Helder.



Many thanks to Wolfgang Stöhr for additional information on this page.