NAVYPEDIA Support the project with paypal
Photo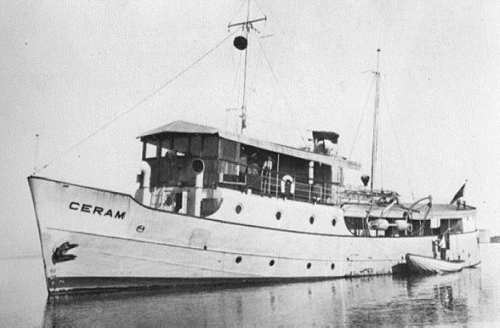 Ceram
Ships
| Name | No | Yard No | Builder | Laid down | Launched | Comp | Fate |
| --- | --- | --- | --- | --- | --- | --- | --- |
| Alor | HMV2 |   | Tandjong Priok Droogdok |   | 1938 | 1938 | scuttled 2.3.1942 |
| Aroe | HMV1 |   | Tandjong Priok Droogdok |   | 1938 | 1938 | scuttled 2.3.1942 |
| Bantam | HMV4 |   | Tandjong Priok Droogdok |   | 1938 | 1938 | scuttled 2.3.1942 |
| Bogor | HMV3 |   | Tandjong Priok Droogdok |   | 1938 | 1938 | scuttled 2.3.1942 |
| Ceram | HMV5 |   | Tandjong Priok Droogdok |   | 1938 | 1938 | scuttled 2.3.1942 |
| Cheribon | HMV6 |   | Tandjong Priok Droogdok |   | 1938 | 1938 | scuttled 2.3.1942 |
Technical data
| | |
| --- | --- |
| Displacement standard, t | 131 |
| Displacement full, t | 145 |
| Length, m | 29.3 pp 31.6 oa |
| Breadth, m | 5.45 |
| Draught, m | 1.84 |
| No of shafts | 1 |
| Machinery | 1 Werkspoor diesel |
| Power, h. p. | 300 |
| Max speed, kts | 12 |
| Fuel, t | diesel oil |
| Endurance, nm(kts) |   |
| Armament | 2 x 1 - 37/45 Hotchkiss, 2 x 1 - 7.7/94 |
| Complement | 18 |
Standard scale images
Cha117 1943
Graphics
Project history
Despatch vessels of Gouvernementmarine intending for transportation of passengers and small cargoes between islands, in 1940 they were converted to minesweepers.
Modernizations
1940, all: + mechanical minesweeping gear
Naval service
All were destroyed by crews at Tandjung Priok on the night of 2.3.1942. Bantam was salvaged by Japanese and commissioned 10.3.1943 as auxiliary submarine chaser Cha117, 23.7.1945 she was sunk by American submarine Hardhead S off Bali.


© 2007-2023 - navypedia.org