Photo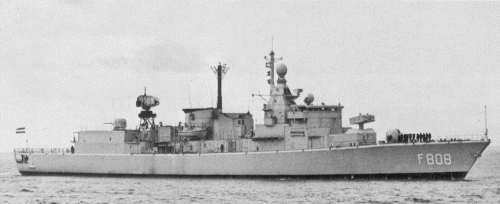 Callenburgh 1980
Ships
| Name | No | Yard No | Builder | Laid down | Launched | Comm | Fate |
| --- | --- | --- | --- | --- | --- | --- | --- |
| Kortenaer | F807 | 350 | KM De Schelde, Vlissingen | 8.4.1975 | 18.12.1976 | 26.10.1978 | to Greece 12.1997 (Κουντουριώτης [Kountouriotis]) |
| Callenburgh | F808 |   | KM De Schelde, Vlissingen | 2.9.1975 | 26.3.1977 | 26.7.1979 | to Greece 3.1994 (Αδρίας[Adrias]) |
| Van Kinsbergen | F809 |   | KM De Schelde, Vlissingen | 2.9.1975 | 16.4.1977 | 24.4.1980 | to Greece 3.1995 (Ναυαρίνον [Navarinon]) |
| Banckert | F810 |   | KM De Schelde, Vlissingen | 25.2.1976 | 30.9.1978 | 29.10.1980 | to Greece 5.1993 (Αιγαίον [Aigaion]) |
| Piet Hein | F811 | 354 | KM De Schelde, Vlissingen | 28.4.1977 | 3.6.1978 | 14.4.1981 | stricken 6.1998, to UAE (الإميرة [Al Emirat]) |
| Pieter Florisz | F812 |   | KM De Schelde, Vlissingen | 2.7.1977 | 15.12.1979 | 10.10.1981 // --- | incomplete to Greece ('Ελλη [Elli]) |
| Witte de With | F813 |   | KM De Schelde, Vlissingen | 13.6.1978 | 27.10.1979 | 18.9.1982 // --- | incomplete to Greece (Λήμνος [Limnos]) |
| Abraham Crijnssen | F816 | 357 | KM De Schelde, Vlissingen | 25.10.1978 | 16.5.1981 | 6.1.1983 | to UAE 10.1997 (أبو ظبي [Abu Dhabi]) |
| Philips van Almonde | F823 | 358 | Wilton-Fijenoord, Schiedam | 1.10.1977 | 11.8.1979 | 2.12.1981 | to Greece 10.2002 (Θεμιστοκλής [Themistokles]) |
| Bloys van Treslong | F824 | 359 | Wilton-Fijenoord, Schiedam | 5.5.1978 | 15.11.1980 | 25.11.1982 | to Greece 11.2004 (Νικηφόρος Φωκάς [Nikiforos Fokas]) |
| Jan van Brakel | F825 | 360 | KM De Schelde, Vlissingen | 16.11.1979 | 16.5.1981 | 14.4.1983 | stricken 10.2001, to Greece (Κανάρης [Kanaris]) |
| Pieter Florisz (ex-Willem van der Zaan) | F826 | 361 | KM De Schelde, Vlissingen | 15.1.1980 | 8.5.1982 | 1.10.1983 | to Greece 6.2001 (Μπουμπουλίνα [Bouboulina]) |
Technical data
Displacement standard, t

3000

Displacement full, t

3800

Length, m

121.8 pp 130.2 oa

Breadth, m

14.4

Draught, m

4.40 hull 6.00 propellers

No of shafts

2

Machinery

COGOG: 2 Rolls-Royce Olympus TM-3B gas turbines / 2 Rolls-Royce Tyne RM-1C gas turbines

Power, h. p.

51600 / 9800

Max speed, kts

30

Fuel, t

gas turbine oil

Endurance, nm(kts)

4700(16)

Armament

F807, 808: 2 x 4 Harpoon SSM (8 RGM-84A/C), 1 x 8 NATO Sea Sparrow SAM (24 RIM-7), 2 x 1 - 76/62 OTO Melara Compact, 4 - 324 Mk 32 mod. 9 TT (Mk 46 mod. 5), 2 helicopters (SH-14D Sea Lynx)

F809-813, 816, 823-826: 2 x 4 Harpoon SSM (8 RGM-84A/C), 1 x 8 NATO Sea Sparrow SAM (24 RIM-7), 1 x 1 - 76/62 OTO Melara Compact, 1 x 1 - 40/70 Bofors 350, 4 - 324 Mk 32 mod. 9 TT (Mk 46 mod. 5), 2 helicopters (SH-14D Sea Lynx)

Electronic equipment

F807-813: ZW-06, LW-08, WM-25, STIR-18 radars, SQS-505 sonar, Sphinx ECM suite, 2x Corvus decoy RL, SEWACO II CCS

F816: ZW-06, LW-08, WM-25, STIR-18 radars, SQS-505 sonar, Sphinx ECM suite, 2x Mk 36 SRBOC decoy RL, SEWACO II CCS

F823-826: ZW-06, LW-08, WM-25, STIR-18 radars, SQS-509 (PHS-36) sonar, Sphinx ECM suite, 2x Mk 36 SRBOC decoy RL, SEWACO II CCS

Complement

200
Standard scale images

Kortenaer 1980

Kortenaer 2000
Graphics
Project history
Designed as a replacements for the twelve postwar ASW destroyers of the Holland and Friesland classes, the frigates of the Kortenaer class were intended to have the maximum degree of commonality of weapons, electronics and propulsion systems with other contemporary NATO frigates. Attempts were initially made to develop a common hull-form with the Royal Navy, but these and approaches to other NATO navies foundered. The Netherlands Navy therefore elected to develop its own 'Standard' design, so-called because it was planned to build ASW and AAV variants on a standard, common hull, and because the design conformed to NATO requirements for ocean escorts.

Eight were ordered in 1974, with a further four in 1976. However, the original F812 and F813 were sold to Greece while fitting out, and it was decided that these should be replaced by two AAW variants.

The hull-form was similar to that of contemporary French construction, with continuous upper and main decks, a single rudder of the semi-balanced type, and a clipper bow with 'negative' sheer The desire for good performance in a seaway resulted in a length / beam ratio less favourable than a generally accepted, and careful design was necessary to ensure that the ships met speed requirements.

The propulsion system and machinery layout were identical to those of the Tromp class. All machinery is resiliently mounted and there was a single pair of non-retractable fin stabilizers. A high degree of automation means that the total engine room complement was only twenty-nine. The ship can be fought and navigated from the operations room, which was fitted with a SEWACO-II tactical data system. On the main deck there was a central passageway running the entire length of the ship, and personnel spaces were grouped in such a way as to minimize traffic.

Two Lynx helicopters can be accommodated, but the ships carried only one during peacetime operations. Similarly, only two or four Harpoon SSM were fitted in peacetime, although this figure would be increased to eight in wartime. The weapons systems were all in widespread service with other NATO navies, but the electronics systems, with the sole exception of the hull sonar, were of Netherlands design and manufacture.
Modernizations
1982, Kortenaer: - 1 x 1 - 76/62; + 1 x 1 - 40/70 Bofors 350

1984, Callenburgh: - 1 x 1 - 76/62; + 1 x 7 - 30/77 Goalkeeper, Goalkeeper radar

1986-early 1990s, Kortenaer, Van Kinsbergen, Banckert, Piet Hein, Abraham Crijnssen, Philips van Almonde, Bloys van Treslong, Jan van Brakel, Pieter Florisz: - 1 x 1 - 40/70; + 1 x 7 - 30/77 Goalkeeper, Goalkeeper radar

1986-early 1990s, all survived: + Ramses ECM suite, SLQ-25A Nixie torpedo decoy

1987-early 1990s, Kortenaer, Callenburgh, Van Kinsbergen, Piet Hein: - 2x Corvus decoy RL; + 2x Mk 36 SRBOC decoy RL

1989-1990, Jan van Brakel, Pieter Florisz: - 2 helicoipters; + SQR-18A sonar

1991, Pieter Florisz: + 2 x 1 - 20/70 Mk 10, 2 x 1 - 12.7/90
Naval service
No significant events.