NAVYPEDIA Support the project with paypal
Photo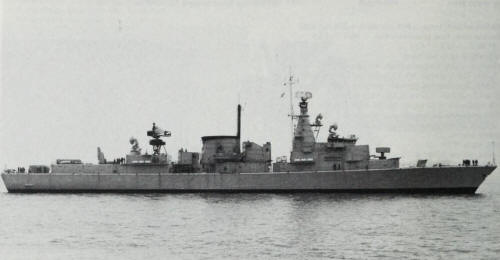 Witte de With 1986
Ships
| Name | No | Yard No | Builder | Laid down | Launched | Comm | Fate |
| --- | --- | --- | --- | --- | --- | --- | --- |
| Jacob van Heemskerck (ex-Pieter Florisz) | F812 | 362 | KM De Schelde, Vlissingen | 21.1.1981 | 5.11.1983 | 15.1.1986 | to Chile 12.2005 (Almirante Latorre) |
| Witte de With | F813 | 363 | KM De Schelde, Vlissingen | 15.12.1981 | 25.8.1984 | 17.9.1986 | to Chile 7.2006 (Capitán Prat) |
Technical data
| | |
| --- | --- |
| Displacement standard, t | 3000 |
| Displacement full, t | 3750 |
| Length, m | 121.8 pp 130.2 oa |
| Breadth, m | 14.4 |
| Draught, m | 4.23 hull 6.00 propellers |
| No of shafts | 2 |
| Machinery | COGOG: 2 Rolls-Royce Olympus TM-3B gas turbines / 2 Rolls-Royce Tyne RM-1C gas turbines |
| Power, h. p. | 51600 / 9800 |
| Max speed, kts | 30 |
| Fuel, t | gas turbine oil |
| Endurance, nm(kts) | 4700(16) |
| Armament | 2 x 4 Harpoon SSM (8 RGM-84C), 1 x 1 Standard SM-1MR SAM (40 RIM-66), 1 x 8 NATO Sea Sparrow SAM (24 RIM-7), 1 x 7 - 30/77 Goalkeeper, 4 - 324 Mk 32 mod. 9 TT (Mk 46 mod. 5) |
| Electronic equipment | Decca 1226, ZW-06, DA-08, LW-08, STIR-18, 2x STIR-24, Goalkeeper radars, SQS-509 (PHS-36) sonar, Sphinx, Ramses ECM suites, 2x Mk 36 SRBOC decoy RL, SLQ-25 Nixie torpedo decoy, SEWACO II CCS |
| Complement | 197 + 20 flag staff |
Standard scale images

Jacob van Heemskerck 2000
Graphics
Project history
The air defence variant of the 'Standard' frigate has much in common with its ASW counterparts. Not only does it share a common hull-form and propulsion system with the latter, but it featured a number of common weapons and electronics systems. The major external differences were the after deckhouse for the US Standard missile system which replaced the helicopter hangar, the suppression of the 76mm gun mounting forward, and the heightened foremast with its DA-08 target tracking radar. The fire control radar for the US Standard SAM was not the standard US SPG-51, but a modified STIR radar of Netherlands design and manufacture.

The arrangements for reloading the eight-cell box launcher for the NATO Sea Sparrow SAM have been considerably modified. Reloads were carried in a tall magazine structure protecting from the forward end of the bridge and were run up manually on an angled ramp connecting the magazine doors with the after end of the launcher.
Modernizations
1995-1996, both: - Decca 1226, DA-08 radars; + 2 x 1 - 20/70 Mk 10, SMART-S, Scout radars
Naval service
No significant events.
© 2007-2022 - navypedia.org