Photo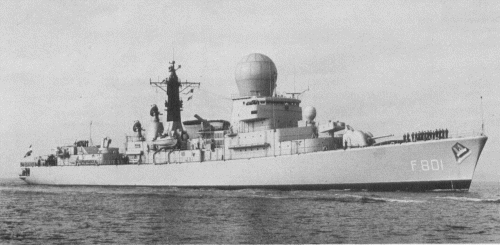 Tromp 1980
Ships
| Name | No | Yard No | Builder | Laid down | Launched | Comp | Fate |
| --- | --- | --- | --- | --- | --- | --- | --- |
| Tromp | F801 |   | Koninklijke Maatschappij de Schelde, Vlissingen | 4.8.1971 | 4.6.1973 | 3.10.1975 | decommissioned 11.1999 |
| De Ruyter | F806 |   | Koninklijke Maatschappij de Schelde, Vlissingen | 22.12.1971 | 9.3.1974 | 3.6.1976 | decommissioned 10.2001 |
Technical data
| | |
| --- | --- |
| Displacement standard, t | 3665 |
| Displacement full, t | 4308 |
| Length, m | 131.0 pp 138.2 oa |
| Breadth, m | 14.8 |
| Draught, m | 4.60 hull 6.60 max |
| No of shafts | 2 |
| Machinery | COGOG: 2 Rolls-Royce Olympus TM-3B gas turbines / 2 Rolls-Royce Tyne RM-1C gas turbines |
| Power, h. p. | 54000 / 8200 |
| Max speed, kts | 30 |
| Fuel, t | gas turbine oil 600 |
| Endurance, nm(kts) | 5000(18) |
| Armament | 1 x 1 Tartar SAM (40 RIM-24), 1 x 8 Sea Sparrow SAM (16 RIM-7), 1 x 2 - 120/50 Bofors No.10, 2 x 3 - 324 Mk 32 TT (Mk 46 mod. 5), 1 helicopter (SH-14D Sea Lynx) |
| Electronic equipment | 2x Decca 1226, SPS-01, WM-25, 2x SPG-51C radars, CWE-610, type 162 sonars, 2x Corvus decoy RL, SEWACO I CCS |
| Complement | 305 |
Standard scale images

Tromp 1980

De Ruyter 2000
Graphics
Project history
These two large missile frigates were designed as replacements for the postwar 152mm gun cruisers of the De Ruyter class. Staff requirements stipulated that they be able to protect a task force or convoy against aircraft and guided weapons, and incorporate sophisticated command facilities; they would have a secondary ASW and anti-ship capability. Since completion Tromp and De Ruyter have served as flagships of two of the three anti-submarine task groups established in accordance with the 1974 Fleet Plan.

The broad hull-form, high freeboard and non-retractable fin stabilizers of these ships combined to give them excellent sea-keeping qualities, together with the necessary internal volume for an extensive electronics outfit and a high level of habitability. The construction of the hull and the superstructure below the radome was of steel, the remaining upperworks were of sea-water resistant aluminium alloy.

Initially they were to have had steam propulsion, but the desire to reduce crew numbers led to the adoption of a COGOG gas turbine system identical to that insulted in contemporary British vessels, but with gearing designed and supplied by the shipbuilders. The Olympus turbines were downrated to improve gas-generator life and reduce maintenance. Twin spade rudders were fitted, each with its own electro-hydraulic steering gear. The rudders were electrically synchronized but can be operated independently. Stringent noise and shock requirements were laid down; all machinery was resiliently mounted, and there were silencers in the uptakes and intakes. The entire machinery installation was monitored from a highly-automated machinery control room, which was situated near the operations room to ensure good communications. The ventilation and air-conditioning system allowed individual control over all living and electronic spaces, and the ships were designed for complete NBC closedown.

Originally the ships were to have been fitted with the Sea Dart SAM in return for British adoption of the large HSA SPS-01 3-D radar for the CVA-01 and the Type 82 escorts. However, Sea Dart proved to be volume-intensive, and the more compact US Tartar/Standard system was adopted instead. The 120mm gun mountings were removed from the old destroyer Gelderland and refurbished.
Modernizations
1977-1978, both: + 2 x 4 Harpoon SSM (8 RGM-84)

1984, Tromp; 1985, De Ruyter: - 1 x 1 Tartar SAM, 2x Corvus decoy RL; + 1 x 1 Standard SM-1MR SAM (40 RIM-66), Ramses ECM suite, 4x Mk 36 SRBOC decoy RL, SLQ-25 Nixie torpedo decoy

1988-1989, both (presumabely): - CWE-610, type 162 sonars; + PHS-36 sonar

1991, De Ruyter: + 1 x 7 - 30/77 Goalkeeper, Goalkeeper radar
Naval service
No significant events.