Photo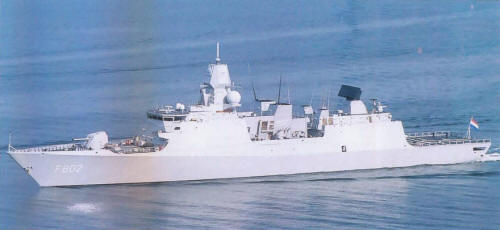 De Zeven Provinciën 2008
Ships
| Name | No | Yard No | Builder | Laid down | Launched | Comp | Fate |
| --- | --- | --- | --- | --- | --- | --- | --- |
| De Zeven Provinciën | F802 |   | De Schelde, Vlissingen | 1.9.1998 | 8.4.2000 | 26.4.2002 | in service (2019) |
| Tromp | F803 |   | De Schelde, Vlissingen | 3.9.1999 | 7.4.2001 | 14.3.2003 | in service (2019) |
| De Ruyter | F804 |   | De Schelde, Vlissingen | 1.9.2000 | 13.4.2002 | 22.4.2004 | in service (2019) |
| Evertsen | F805 |   | De Schelde, Vlissingen | 6.9.2001 | 19.4.2003 | 10.6.2005 | in service (2019) |
Technical data
Displacement standard, t

4400

Displacement full, t

6050

Length, m

130.7 pp 144.2 oa

Breadth, m

18.8

Draught, m

5.19 mean hull

No of shafts

2

Machinery

CODOG: 2 Rolls-Royce Spey SM-1C gas turbines / 2 Werkspoor-Wärtsilä 16V26ST diesels

Power, h. p.

53040 / 13600

Max speed, kts

28

Fuel, t

gas turbine / diesel oil

Endurance, nm(kts)
5000(18)
Armament

2 x 4 Harpoon Block IC SSM (8 RGM-84F), 1 x 40 Standard SM-2MR Block IIIA SAM / 4x ESSM SAM (VLS, 32 RIM-66M + 32 RIM-162B), 1 x 1 - 127/54 OTO Melara Compact, 2 x 7 - 30/77 Goalkeeper, 2 x 1 - 20/85 GAM-B01, 6 x 1 - 7.6/90, 2 x 2 - 324 Mk 32 Mod. 9 TT (Mk 46 mod. 5), 1 helicopter (SH-14D Sea Lynx)

Electronic equipment

SMART-L, APAR, Scout, nav. radars, Mirador-FD, Sirius e/o systems, DSQS-24C, ALF sonars, Sabre ECM suite, 4x Mk 36 SRBOC decoy RL, SLQ-25 Nixie torpedo decoy, SEWACO XI CCS

Complement

F802, 803: 182

F804, 805: 171
Standard scale images

De Zeven Provinciën 2010
Graphics
Project history
Were to have been a cooperative venture with Germany and Spain under an agreement signed in 1994, but the German ship design differs and Spain later withdrew. First two are designated LCF (Luchtverdedigings en Commando Fregat, or Air-Defense and Command Frigate) and were ordered in 1995. Authorization for a second pair of NLF (Nieuw Luchtverdedigings Fregat, or New Air-Defense Frigate) was granted by the parliament in 1996, and they were ordered in 1997.
Employ twin rudders with rudder roll stabilization. Ship's boats are rigid inflatables stowed behind bulwarks. Reduced radar and infrared signature measures have been extensively employed. Have six "autonomous internal zones" divided by PriMa flexible, watertight, blast- and fragmentation-resistant bulkheads. Each Mk 41 VLS cell can hold one Standard or four evolved Sea Sparrow missiles. Plans to acquire the Tomahawk land-attack cruise missile for the class were cancelled during 2007.

The first two were originally to have had twin 120-mm gunmounts recycled from the Tromp class (and before that aboard the destroyer Gelderland). The OTO Melara mounts for the first two ships were ordered in 1996 (with an option for two more) in order to take advantage of planned developments in U.S. 127-mm extended-range guidance munitions (ERGM); all four are refurbished ex-Canadian mountings from the Tribal class. The helicopters carry ASW and antiship weapons, and the magazines will stow up to 24 ASW torpedoes and 12 antiship missiles.
Modernizations
2004, all: - 2 x 1 - 20/85; + 2 x 1 - 12.7/90

2010, all: - 1 helicopter (SH-14D Sea Lynx); + 1 helicopter (NH 90)
Naval service
No significant events.