Photo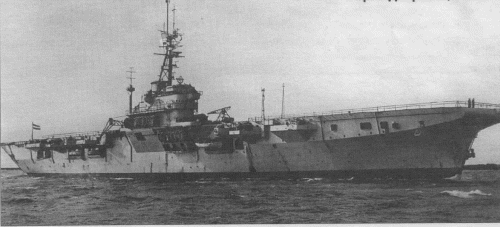 Karel Doorman 1954
Ships
| Name | No | Yard No | Builder | Laid down | Launched | Comp | Fate |
| --- | --- | --- | --- | --- | --- | --- | --- |
| Karel Doorman (ex-Venerable) | R81 | 1126 | Cammell Laird, Birkenhead, UK | 3.12.1942 | 30.12.1943 | 17.1.1945 // 1.4.1948 | to Argentina 10.1968 (Veinticinco de Mayo) |
Technical data
| | |
| --- | --- |
| Displacement standard, t | 15892 |
| Displacement full, t | 19896 |
| Length, m | 192.0 pp 211.2 oa |
| Breadth, m | 24.4 wl |
| Draught, m | 7.60 |
| No of shafts | 2 |
| Machinery | 2 sets Parsons geared steam turbines, 4 Admiralty 3-drum boilers |
| Power, h. p. | 40000 |
| Max speed, kts | 25 |
| Fuel, t | oil 3200 |
| Endurance, nm(kts) | 12000(14) |
| Armament | 21 x 1 - 40/60 Mk III, 6 x 4 - 40/39 Mk VII, 37 aircraft (Sea Fury FB.11 fighters, Firefly AS.4/5 ASW planes) |
| Electronic equipment | type 79B, type 281B, 6x type 282 radars, type 144 sonar |
| Complement | 1300 |
Air group
| Year | Fighters | ASW planes | Helicopters |
| --- | --- | --- | --- |
| 1948 | 10 Sea Fury FB.11 | 9 Firefly AS.4/5 | --- |
| 1952 | 23 Sea Fury Mk50 | --- | --- |
| 1959 | 6 Sea Hawk FGA.6 | 6 TBM-3 Avenger | 4 HSS-1N Seabat, 2 rescue |
| 1965 | --- | 8 S-2A Tracker | 6 SH-34J Seabat |
Standard scale images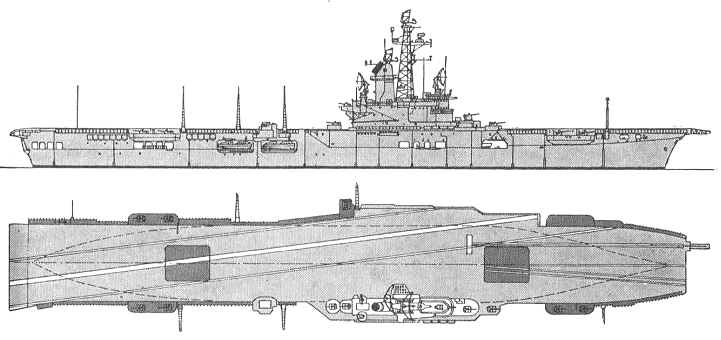 Karel Doorman 1965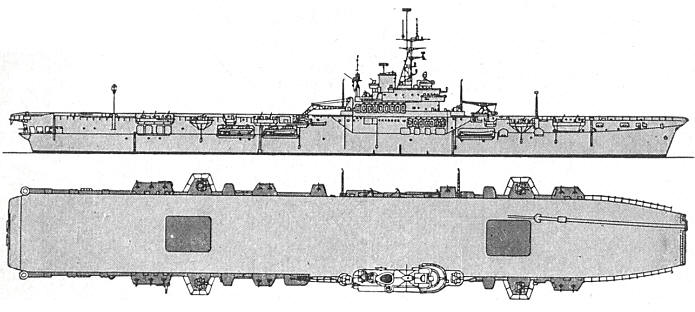 Karel Doorman 1955
Graphics
Aircraft facilities
(fd - 5,131m², ha - 2,142m² / 11,355m³): Flight deck: 210.3x24.4m; hangar: 135.6x15.8x 5.3m. Two lifts: 13.7x10.4m, 6.8t. 1 catapult BH-III (6.4t plane was launched at 122km/h). Aircraft fuel stowage: 448,200l.
Project history
Former British light aircraft carrier of Colossus class.
Protection
There were mantlets around aircraft torpedoes warheads rooms only. Their thickness was 10mm. Longitudinal watertight bulkheads covered the machinery.
Modernizations
(1955-7/1958): new 165.8m angled (8°) deck was installed (beam of flying deck became 37.0m), catapult was replaced by BS-4, new arresting gear, air conditioning system were mounted, island superstructure was rebuilt; new armament consisted of 12 x 1 - 40/70 Bofors Mod 1958; new radars included LW-01, LW-02, DA-01, 2x VI-01, ZW-01, there was no sonar; speed was decreased to 24kts. Hangar dimensions were unchanged but hangar can now carry only 21 new airplanes with increased size.

(1965-1966): machinery was replaced by remounted from incomplete Leviathan: 42000hp, 24.5kts
Naval service
An extensive boiler room fire 29.4.1968 caused the Karel Doorman to be prematurely decommissioned from Dutch service, but she was extensively rebuilt at Wilton Fijenoord Shipyard and purchased by Argentina.