Photo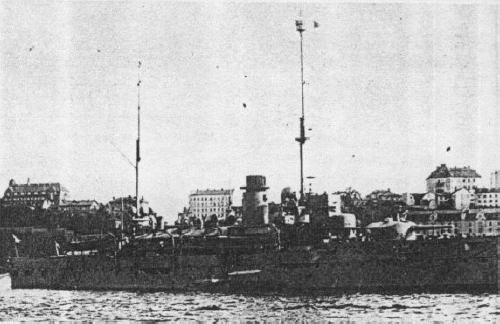 Jacob van Heemskerck 1913
Ships
| Name | No | Yard No | Builder | Laid down | Launched | Comp | Fate |
| --- | --- | --- | --- | --- | --- | --- | --- |
| Jacob van Heemskerck, 4.1939- Ijmuiden |   |   | Rijkswerf Amsterdam | 15.8.1905 | 22.9.1906 | 22.4.1908 | scuttled 14.5.1940 |
Technical data
| | |
| --- | --- |
| Displacement normal, t | 4920 |
| Displacement full, t |   |
| Length, m | 98.0 oa |
| Breadth, m | 15.2 |
| Draught, m | 5.69 max |
| No of shafts | 2 |
| Machinery | 2 VTE, 8 Yarrow boilers |
| Power, h. p. | 6400 |
| Max speed, kts | 16.5 |
| Fuel, t | coal 680 |
| Endurance, nm(kts) | 3300(10) |
| Armour, mm | belt: 150 - 100, bulkheads: 150, deck: 50, main turrets: 100, barbettes: 200 - 100, CT: 195 |
| Armament | 2 x 1 - 238/37 Krupp No.2, 6 x 1 - 149/37 Krupp No.5, 6 x 1 - 75/37 Krupp No.1, 4 x 1 - 37/20 Hotchkiss, 2 - 450 TT (beam) |
| Complement | 340 |
Standard scale images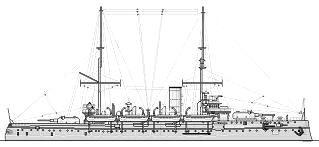 Jacob van Heemskerck 1908
Graphics
Project history
Slightly improved version of Tromp design, continuing a line of Dutch coast defence ships, begun late XIX century from Evertsen class. Jacob van Heemskerck differed from Tromp hardly in the smaller dimensions and presence of two additional 15cm guns amidships.
Ship protection
Armoured belt protected full ship length, 150mm-thick part between main turrets was closed by 150mm bulkheads. Main 50mm deck was connected with upper edge of the belt.
Modernizations
1929: - 2 x 1 - 149/37.

1939: - 4 x 1 - 149/37, 6 x 1 - 75/37, 4 x 1 - 37/20, 2 - 450 TT; + 2 x 1 - 40/56 Bofors No.4.
Naval service
Jacob van Heemskerck was converted 19.4.1939 to floating battery (Batterijschip) and renamed Ijmuiden. She was partially disarmed. Ijmuiden was scuttled by crew 14.5.1940, raised by Germans 16.7.1940 and subsequently converted to non-self-propelled AA floating battery Undine. Ship was returned in 1945, converted on Amsterdam DYd to barrack ship and commissioned again under name Neptunus 23.2.1948. Ship was disbanded 13.9.1974 and stricken 4.10.1974. Hull was preserved up to now.