NAVYPEDIA Support the project with paypal
Photo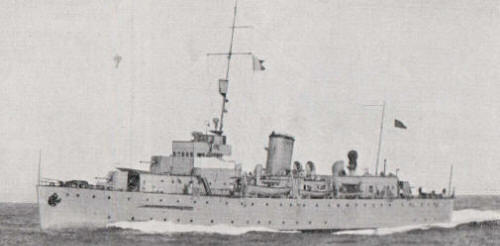 Guanajuato 1936
Ships
| Name | No | Yard No | Builder | Laid down | Launched | Comp | Fate |
| --- | --- | --- | --- | --- | --- | --- | --- |
| Guanajuato | C7, 1993- C07 |   | SECN, El Ferrol, Spain |   | 28.5.1934 | 5.1936 | stricken 7.2001 |
| Querétaro | C8, later- H09 |   | SECN, El Ferrol, Spain |   | 28.7.1934 | 4.1936 | stricken 1975 |
| Potosi | C9 |   | SECN, Cadiz, Spain |   | 24.8.1934 | 4.1936 | stricken 1975 |
Technical data
| | |
| --- | --- |
| Displacement standard, t | 1300 |
| Displacement full, t | 1950 |
| Length, m | 79.2 pp 80.4 oa |
| Breadth, m | 11.5 |
| Draught, m | 3.05 |
| No of shafts | 2 |
| Machinery | 2 sets Parsons geared steam turbines, 2 Yarrow boilers |
| Power, h. p. | 5000 |
| Max speed, kts | 20 |
| Fuel, t | oil 140 |
| Endurance, nm(kts) | 3000(14) |
| Armament | 3 x 1 - 102/45 Vickers Mk LA, 2 x 2 - 25/60 Hotchkiss, 2 x 2 - 13.2/76 |
| Military load | 230 troops, 40 horses |
| Complement | 140 |
Standard scale images

Guanajuato 1954

Guanajuato 1940

Potosi 1965
Graphics
Project history
Original ships combining functions of gunboat and military transport. Design was developed on the basis of Spanish Canovas del Castillo gunboat. At expense of hull increasing and some decreasing of armament Mexican ships were available to take aboard up to 230 infantrymen and 40 horses for whom there was special accommodation in an aft superstructure. After introduction of Mexico into the war, all three gunboats passed repair and modernizations on US shipyards in California.
Modernizations
1942, all: - 2 x 2 - 25/60; + 2 x 1 - 20/70 Mk 4, 2 DCT

1958, Queretaro; 1961, Potosi; 1964, Guanajuato: geared turbines were replaced by Enterprise DMR-38 diesels (5000hp, 14kts only); - 2 x 1 - 102/45; + radars
Naval service
Guanajuato after discarding was preserved as memorial in Veracruz.
© 2007-2023 - navypedia.org