NAVYPEDIA Support the project with paypal
Photo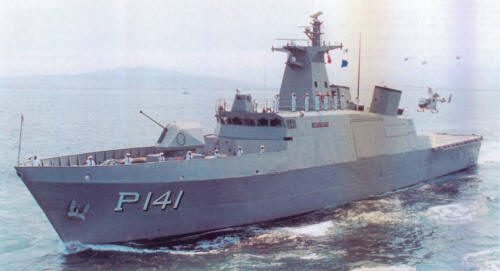 Justo Sierra Méndez 2004
Ships
| Name | No | Yard No | Builder | Laid down | Launched | Comp | Fate |
| --- | --- | --- | --- | --- | --- | --- | --- |
| Justo Sierra Méndez (ex-Rosas Corias) | C2001, 2001- P141 |   | Astimar, Tampico | 19.1.1998 | 1.6.1998 | 1.6.1999 | in service (2019) |
| Benito Juárez | C2002, 2001- P142 |   | Astimar, Salina Cruz | 19.1.1998 | 23.7.1998 | 1.9.1999 | fire 24.10.2003 |
| Guillermo Prieto | C2003, 2001- P143 |   | Astimar, Tampico | 1.6.1998 | 16.4.1999 | 18.9.1999 | in service (2019) |
| Matias Romero | C2004, 2001- P144 |   | Astimar, Salina Cruz | 23.7.1998 | 16.4.1999 | 17.9.1999 | in service (2019) |
Technical data
Displacement standard, t

1175

Displacement full, t

1340

Length, m

70.0 pp 75.2 oa

Breadth, m

10.5

Draught, m

3.40 max

No of shafts

2

Machinery

2 Caterpillar 3616 V16 diesels

Power, h. p.

12400

Max speed, kts

23

Fuel, t

diesel oil 227

Endurance, nm(kts)

3800(18)

Armament

P141: 1 x 2 - 40/60 Mk 1, 1 helicopter (MD-902 Explorer)

P142-144: 1 x 1 - 57/70 Bofors SAK-57 Mk 3, 1 helicopter (MD-902 Explorer)

Electronic equipment

P141: Scanter 2001, surf./air search radars, Elsag e/o system, SP-21K CCS

P142-144: Scanter 2001, surf./air search radars, EOS-450 e/o system, SP-21K CCS

Complement

75
Standard scale images

Justo Sierra Méndez 2010
Graphics
Project history
Repeat of Aguila class with a flush-decked hull of slightly greater beam and a greater freeboard. Boston Whaler Piranha-class chase boat is carried at the stern.
Modernizations
2003, Justo Sierra Méndez: - 1 x 2 - 40/60, Elsag e/o system; + 1 x 1 - 57/70 Bofors SAK-57 Mk 3, EOS-450 e/o system
Naval service
Benito Juáez suffered a serious fire 24.10.2003, was decommissioned, used for tests and finally sunk as target in July 2007.
© 2007-2022 - navypedia.org