NAVYPEDIA Support the project with paypal
Ships
| Name | No | Yard No | Builder | Laid down | Launched | Comp | Fate |
| --- | --- | --- | --- | --- | --- | --- | --- |
| Anáhuac (ex-Marshal Deodoro, ex-Ypiranga) |   |   | F C de la Méditerranée, La Seyne, France | 1898 | 18.6.1898 | 1900 // 1924 | discarded 1938 |
Technical data
| | |
| --- | --- |
| Displacement normal, t | 3162 |
| Displacement full, t |   |
| Length, m | 81.5 |
| Breadth, m | 14.4 |
| Draught, m | 4.19 |
| No of shafts | 2 |
| Machinery | 2 VTE, 8 Babcock & Wilcox boilers |
| Power, h. p. | 3400 |
| Max speed, kts | 15 |
| Fuel, t | oil 440 |
| Endurance, nm(kts) |   |
| Armour, mm | Harvey steel; belt: 350 - 150, ends: 100, deck: 45, turrets: 220, casemates: 75, CT: 125 |
| Armament | 2 x 1 - 234/45 Armstrong D, 4 x 1 - 120/50 Armstrong AA, 6 x 1 - 57/40 6pdr Hotchkiss, 2 - 450 TT (beam) |
| Complement | 200 |
Standard scale images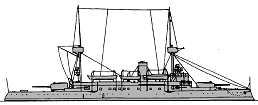 Anáhuac 1924
Project history
For strengthening of its small Navy consisting of gunboats and armed vessels, Mexico in 1924 purchased in Brazil coast defence ship Deodoro, commissioned as Anáhuac, however battle value of this hopelessly out-of-date ship was insignificant and in 1938 she was discarded.
Ship protection
Complete 1.68m deep belt was 350mm thick at the top and 150mm at the bottom amidships, tapering to 100mm at the ends, and there was 45mm sloping protective deck.
Modernizations
None.
Naval service
No significant events.
© 2007-2022 - navypedia.org