NAVYPEDIA
Photo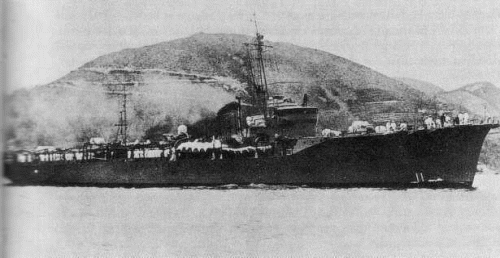 Hatsutaka 1939
Ships
| Name | No | Yard No | Builder | Laid down | Launched | Comp | Fate |
| --- | --- | --- | --- | --- | --- | --- | --- |
| 初鷹 [Hatsutaka] |   |   | Harima, Aioi | 3.1938 | 28.4.1939 | 10.1939 | sunk 16.5.1945 |
| 蒼鷹 [Aotaka] |   |   | Harima, Aioi | 5.1939 | 5.2.1940 | 6.1940 | sunk 26.9.1944 |
| 若鷹 [Wakataka] |   |   | Harima, Aioi | 11.1940 | 12.7.1941 | 11.1941 | captured 9.1945, to United Kingdom 10.1947 (Laburnum) |
Technical data
Displacement standard, t

1608

Displacement normal, t

1890

Length, m

82.5 pp 86.5 wl 90.9 oa

Breadth, m

11.3

Draught, m

4.40

No of shafts

2

Machinery

2 sets geared steam turbines, 3 boilers

Power, h. p.

6000

Max speed, kts

20

Fuel, t

coal + oil

Endurance, nm(kts)
3000(14)
Armament

Hatsutaka, Aotaka: 2 x 2 - 40/62 HI 91-shiki, 2 x 2 - 13.2/76, 360 mines or nets

Wakataka: 2 x 1 - 76/40 11-shiki, 2 x 2 - 25/60 96-shiki, 360 mines or nets

Electronic equipment
93-shiki sonar, 93-shiki hydrophone
Complement

199
Standard scale images

Hatsutaka 1941
Graphics
Project history
Built under 3rd (Hatsutaka and Aotaka) and 4th (Wakataka) Supplementary programmes of 1937 and 1939. Multi-purpose minelayers-netlayers, design was developed on the basis of strongly redesigned Yaeyama. It was proposed to build two more ships of such class (Asadori and hull No819), but orders for them have been cancelled in 1943.
Modernizations
1943 - 1944, all: - mine capacity; + 4 DCT (36)

1945, Wakataka: after repair length oa was ~86m; + 4 x 1 - 13.2/76
Naval service
Aotaka 16.5.1944 was damaged on a mine, 26.9.1944 she was sunk N off Borneo by US submarine Pargo. Hatsutaka 3.8.1944 was damaged on a mine, 16.5.1945 she was sunk E off Malacca by US submarine Hawkbill. Wakataka 17.10.1944 was damaged by Dutch submarine Zvaardvis, 27.3.1945 heavy damaged on a mine (under other version by British submarine Stygian): fore part was broken off and in 1947 on a reparation transferred to UK.
© 2007-2021 - navypedia.org