NAVYPEDIA Support the project with paypal
Photo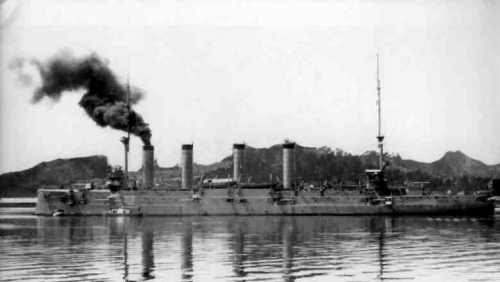 Aso
Ships
| Name | No | Yard No | Builder | Laid down | Launched | Comp | Fate |
| --- | --- | --- | --- | --- | --- | --- | --- |
| 阿蘇 [Aso] (ex-Баян [Bayan]) |   |   | F C de la Méditerranée, La Seyne, France // Maizuru K K | 12/1898 | 30.5.1900 | 4.1903 // 1908 | minelayer 1920, stricken 4.1930 |
Technical data
| | |
| --- | --- |
| Displacement normal, t | 7725 |
| Displacement full, t | 7800 |
| Length, m | 137.0 |
| Breadth, m | 17.5 |
| Draught, m | 6.48 |
| No of shafts | 2 |
| Machinery | 2 VTE, 26 Belleville boilers |
| Power, h. p. | 16500 |
| Max speed, kts | 21 |
| Fuel, t | coal 1100 |
| Endurance, nm(kts) | 7000(10) |
| Armour, mm | Harvey nickel steel - belt: 200 - 100, bulkheads: 200 - 180, upper belt: 60, casemates: 60, deck: 50 - 30, CT: 160 |
| Armament | 2 x 1 - 203/42 (rus.), 8 x 1 - 152/45 Armstrong GG, 16 x 1 - 76/40 Armstrong N, 2 x 1 - 6.5/115 |
| Complement | 593 |
Standard scale images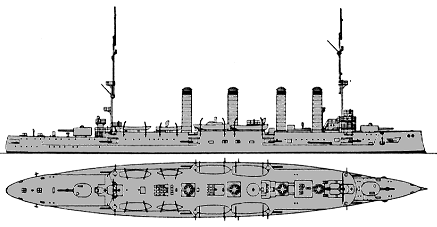 Aso 1908
Graphics
Project history
Former Russian Bayan, captured 2.1.1905 at Port Arthur. She was repaired and commissioned in 1908.
Ship protection
Main 200mm belt protected part of ship length between stem and aft turret and had 1.8m height, its thickness decreased to 100mm at lower edge and near ship ends. It was closed by 200-180mm bulkhead at aft end. 60mm upper belt connected with upper deck. 6`` and half of 3`` guns had similar protection. Main deck was 50mm at flat part.
Modernizations 3.
1913: - 2 x 1 - 203/42; + 2 x 1 - 152/50 41-shiki with shields

1920: + capacity for 420 mines.
Naval service
Aso was stricken 1.4.1930, converted to target and sunk on manoeuvres 8.8.1932.


© 2007-2022 - navypedia.org