Photo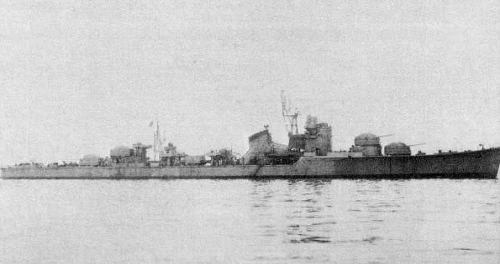 Harutsuki 1945
Ships
| Name | No | Yard No | Builder | Laid down | Launched | Comp | Fate |
| --- | --- | --- | --- | --- | --- | --- | --- |
| 秋月 [Akizuki] |   |   | Maizuru K K | 7/1940 | 2.7.1941 | 6.1942 | sunk 25.10.1944 |
| 照月 [Teruzuki] |   | 875 | Mitsubishi, Nagasaki | 11/1940 | 21.11.1941 | 8/1942 | sunk 12.12.1942 |
| 凉月 [Suzutsuki] |   | 876 | Mitsubishi, Nagasaki | 3/1941 | 9.3.1942 | 12/1942 | damaged 7.4.1945, never repaired |
| 初月 [Hatsutsuki] |   |   | Maizuru K K | 7/1941 | 3.4.1942 | 12.1942 | sunk 25.10.1944 |
| 霜月 [Niizuki] |   | 878 | Mitsubishi, Nagasaki | 12/1941 | 29.6.1942 | 3/1943 | sunk 6.7.1943 |
| 若月 [Wakatsuki] |   | 879 | Mitsubishi, Nagasaki | 3/1942 | 24.11.1942 | 5/1943 | sunk 11.11.1944 |
| 霜月 [Shimozuki] |   | 877? | Mitsubishi, Nagasaki | 7/1942 | 7.4.1943 | 3/1944 | sunk 25.11.1944 |
| 冬月 [Fuyutsuki] |   |   | Maizuru K K | 5/1943 | 20.1.1944 | 5/1944 | damaged 20.8.1945, never repaired |
| 花月 [Hanatsuki] |   |   | Maizuru K K | 2/1944 | 10.10.1944 | 12/1944 | damaged 24.7.1945, never repaired, to USA 8.1947 (DD934) |
| 宵月 [Yoizuki] |   |   | Uraga, Tokyo | 8/1943 | 25.9.1944 | 1/1945 | damaged 5.6.1945, never repaired, to China 8.1947 (汾陽 [Fen Yang]) |
| 春月 [Harutsuki] |   |   | Sasebo K K | 12/1943 | 3.8.1944 | 12.1944 | surrendered 8.1945, to Soviet Union 8.1947 (Внезапный [Vnyezapnyy]) |
| 夏月 [Natsuzuki] |   |   | Sasebo K K | 5/1944 | 2.12.1944 | 8/1945 | surrendered 8.1945, to United Kingdom 8.1947, BU 1948 |
| 満月 [Mochitsuki] |   |   | Sasebo K K | 1/1945 | --- | --- | BU incomplete |
Technical data
Displacement standard, t

2701

Displacement full, t

3700

Length, m

126.0 pp 132.0 wl 134.2 oa

Breadth, m

11.6

Draught, m

4.15

No of shafts

2

Machinery

2 sets Kampon geared steam turbines, 3 Kampon boilers

Power, h. p.

52000

Max speed, kts

33

Fuel, t

oil 1097

Endurance, nm(kts)

8300(18)

Armament

Akizuki, Teruzuki: 4 x 2 - 100/65 98-shiki, 2 x 2 - 25/60 96-shiki, 1 x 4 - 610 TT (8), 6 DCT (72)

Suzutsuki, Hatsutsuki, Niizuki, Wakatsuki: 4 x 2 - 100/65 98-shiki, 4 x 3 - 25/60 96-shiki, 1 x 4 - 610 TT (8), 6 DCT (72)

Shimozuki, Fuyutsuki, Hanatsuki, Yoizuki, Harutsuki: 4 x 2 - 100/65 98-shiki, 5 x 3 - 25/60 96-shiki, 12 x 1 - 25/60 96-shiki, 4 x 1 - 13.2/76, 1 x 4 - 610 TT (8), 6 DCT (72)

Natsuzuki: 4 x 2 - 100/65 98-shiki, 7 x 3 - 25/60 96-shiki, 30 x 1 - 25/60 96-shiki, 4 x 1 - 13.2/76, 1 x 4 - 610 TT (8), 6 DCT (72)

Electronic equipment

Akizuki, Teruzuki: 93-shiki sonar

Suzutsuki, Hatsutsuki, Niizuki, Wakatsuki: 1-shiki 2-go radar, 93-shiki sonar

Shimozuki: 1-shiki 2-go, 3-shiki 1-go radars, 93-shiki sonar

Fuyutsuki, Hanatsuki, Yoizuki, Harutsuki, Natsuzuki: 2-shiki 2-go, 2x 3-shiki 1-go radars, E-27 ECM suite, 93-shiki sonar

Complement

300
Standard scale images

Akizuki 1942

Hatsutsuki 1943

Akizuki 1942

Harutsuki 1945
Graphics
Project history
Destroyers of Akizuki class were planned as specialised anti-aircraft ships for fast carrier task forces. Newest 100mm/65 guns with rather perfect fire control system should become their main weapon. Round them, in essence, the ship also was projected. Originally torpedo armament was not provided at all, however subsequently project was have improved, having yielded to requirements of supporters of torpedoes. However, it was possible to place only one quadruple TT with fast recharge system. New ships turned out notably more largely than predecessors, that at the same engine power as on Kagero has led to notable fall of speed to 33kts.

In total it was supposed to build 55 destroyers of this class: 6 under the program of 1939, 10 under the program of 1941, 16 on the basic and 23 on additional programs of 1942. Because of a lack of materials and production capacities order for all 39 ships of programs of 1942 have been cancelled even before selection of builders. For the same reason building of last four units of the program of 1941 was cancelled, orders on which have already been received by builders, and one (Michitsuki) even had time to been laid down. In March, 1945 her building was suspended, and hull was scrapped on a slipway in 1948. Planned and ordered Kiyotsuki, Otsuki and Hatsuki were never laid down.
Modernizations
1943, Akizuki: - 2 x 2 - 25/60; + 4 x 3 - 25/60 96-shiki, 1-shiki 2-go radar

1944, Akizuki, Suzutsuki, Hatsutsuki, Wakatsuki: + 1 x 3 - 25/60 96-shiki, 12 x 1 - 25/60 96-shiki, 4 x 1 - 13.2/76, 3-shiki 1-go radar

1945, Suzutsuki, Fuyutsuki, Hanatsuki, Youizuki, Harutsuki: - 2-shiki 1-go radar; + 2 x 3 - 25/60 96-shiki, 18 x 1 - 25/60 96-shiki, 2-shiki 2-go, 3-shiki 1-go radars, E-27 ECM suite
Naval service
Teruzuki 26.10.1942 off Santa Cruz was damaged by air torpedo or torpedo from US MTB PT45. 12.12.1942 she was sunk at Kolombangara by US MTB РТ45. Niizuki 6.7.1943 was sunk E off Kolombangara by US cruisers Helena, Honolulu, St. Louis and destroyers. Hatsutsuki 25.10.1944 was sunk N off Cape Engano (Luzon) by gunfire of US cruisers Mobile, New Orleans, Santa Fe, Wichita and 12 destroyers. Akizuki 19.1.1943 was hard damaged in Solomons area by a mine (under other data she was damaged by a torpedo from US submarine Nautilus), repair lasted till July, 1943; 25.10.1944 she was sunk NE off Engano by US carrier aircraft (under other data by US submarine Halibut). Wakatsuki 11.11.1944 was sunk in Omrock Bay by US carrier aircraft. Shimozuki 25.11.1944 was sunk NE off Singapore by US submarine Cavalla. Suzutsuki 16.1.1944 was hard damaged in Bungo Strait by torpedoes from US submarine Sturgeon (explosions broken off bow and stern), repair lasted 3 months; 7.4.1945 she was hard damaged by US aircraft S off Kyushu and was not under repair. Natsusuki 16.6.1945 was hard damaged at Sasebo by a mine and was not under repair. Fuyutsuki 12.10.1944 was damaged by US submarine Trepang. 20.8.1945 she was hard damaged by a mine in Internal sea of Japan (fore end was broken off) and was not under repair. Yoizuki 5.6.1945 was hard damaged by a mine and was not under repair; 24.7.1945 in Kure she received new damages during raid of US carrier aircraft. In August, 1947 she was transferred as reparation to China. Hanatsuki 24.7.1945 was damaged by US carrier aircraft in Kure and was not under repair. In August, 1947 she was transferred to the USA on a reparation. Harutsuki in August, 1947 was transferred on a reparation to the USSR.



Many thanks to Wolfgang Stöhr for additional information on this page.