Photo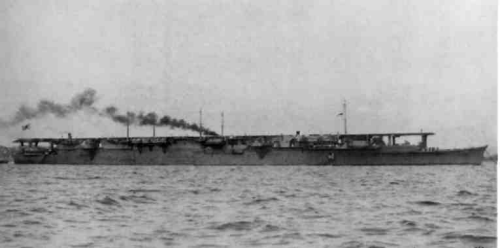 Shoho
Ships
| Name | No | Yard No | Builder | Laid down | Launched | Comp | Fate |
| --- | --- | --- | --- | --- | --- | --- | --- |
| 瑞鳳 [Zuiho] (ex-高崎 [Takasaki]) |   |   | Yokosuka K K | 20.6.1935 | 19.6.1936 | 27.12.1940 | sunk 25.10.1944 |
| 祥鳳 [Shoho] (ex-剣埼 [Tsurugisaki]) |   |   | Yokosuka K K // Yokosuka K K | 3.12.1934 | 1.6.1935 | 15.1.1939 // 26.1.1942 | sunk 7.5.1942 |
Technical data
Displacement standard, t

11262

Displacement full, t

14200

Length, m

185.0 pp 201.5 wl 204.8 oa

Breadth, m

18.2 wl 23.0 fd

Draught, m

6.64

No of shafts

2

Machinery

2 sets Kampon geared steam turbines, 4 Kampon boilers

Power, h. p.

52000

Max speed, kts

28

Fuel, t

oil 2600

Endurance, nm(kts)
7800(18)
Armament

Zuiho: 4 x 2 - 127/40 89-shiki, 4 x 2 - 25/60 96-shiki, 30 aircraft (A5M, A6M fighters, D1A, D3A diving bombers, B5N torpedo bombers)

Shoho: 4 x 2 - 127/40 89-shiki, 4 x 3 - 25/60 96-shiki, 30 aircraft (A5M, A6M fighters, D3A diving bombers, B5N torpedo bombers)

Complement

785
Air group
| Year | Fighters | torpedo bombers |
| --- | --- | --- |
| 3.1941 Zuiho | 16 A5M4 | 12 B5N |
| 12.1941 Zuiho | 12 A5M4 | 12 B5N |
| 1.1942 Shoho | 12 A5M4 | 12 B5N |
| 5.1942 Shoho | 6 A5M4, 6 A6M2 | 9 B5N |
| 6.1942 Zuiho | 12 A6M2 | 11 B5N |
| 7.1942 Zuiho | 21 A6M2 | 6 B5N |
| 11.1943 Zuiho | 18 A6M2 | 8 B5N |
| 2.1944 Zuiho | 15 A6M2, 6 A6M5 | 9 B6N |
| 10.1944 Zuiho | 15 A6M2 | 4 B5N, 11 B6N |
Standard scale images

Zuiho 1942
Graphics
Aircraft facilities
(fd - 4,140m², ha - 2,232m² / ~11,160m³): Flight deck: 180.0x23.0m. There was hangar (124x18.0xm). There were fore (13.0x12.0m) and aft (12.0x10.8m) lifts. Aircraft fuel stowage: ?.
Project history
Former submarine tenders, which design provided fast conversion to aircraft carriers. Tsurugisaki and Takasaki (9500/13000t, 2 diesels, 56000hp, 29kts, 2x2 - 127mm/40, 12 light guns, 3 seaplanes) were built under 2nd Supplementary Programme of 1934. Tsurugisaki was commissioned 15.1.1939, and already launched Takasaki approximately during the same time have started to rebuild to carrier; she was completed in new quality under name Zuiho. In November, 1940 on Yokosuka N Yd conversion Tsurugisaki, renamed to Shoho, has begun.

Reconstruction of the ships was more thorough, than it provided by pre-war plans. Unsuccessful diesel machinery it was necessary to replace by turbines, unified with Kagero class destroyers. As a whole arrangement and architecture of carriers reminded Ryujo: actually, on the basis of the latter hulls of tenders were designed. Interesting feature of carriers was very long and narrow hull (L/B rate was 11.1), equipped, nevertheless, by underwater protection of cruiser type. Armour was absent, but as local protection of magazines and petrol tanks original box capacities with double sides were used, space between this double sides was filled with water. One more unusual detail of architecture of the ship was an additional funnel smoke tube aft, intended for exhaust gases of diesels-generators.
Ship protection
There was cruiser-type underwater protection.
Modernizations 9.
1943, Zuiho: flight deck was lengthened to 192.6 m; - 4 x 2 - 25/60; + 16 x 3 - 25/60 96-shiki, 1-shiki 2-go radar

1944, Zuiho: + 20 x 1 - 25/60 96-shiki, 6 x 28 - 120 AA RL
Naval service
Zuiho during battle at Santa Cruz 26.10.1942 was damaged by American carrier aircraft (she has received hits aft of two 227kg bombs). Repair lasted till January, 1943. During battle at Engano 25.10.1944 she was sunk by American carrier aircraft (Intrepid, Essex, Langley air groups), receiving hits of two torpedoes and four bombs.

Shoho during battle in Coral sea 7.5.1942 has undergone massed raid of American carrier aircraft (Lexington and Yorktown air groups), received seven torpedo and 13 air bomb hits and sunk in 20 minutes.