Photo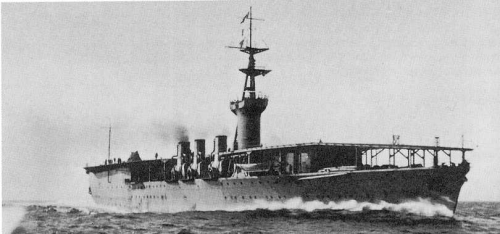 Hosho 1922
Ships
| Name | No | Yard No | Builder | Laid down | Launched | Comp | Fate |
| --- | --- | --- | --- | --- | --- | --- | --- |
| 鳳翔 [Hosho] (ex-飛龍 [Hiryu]) |   |   | Asano, Tsurumi / Yokosuka K K | 16.12.1919 | 13.11.1921 | 16.12.1922 | surrendered 9.1945, BU 4.1947 |
Technical data
| | |
| --- | --- |
| Displacement standard, t | 7470 |
| Displacement full, t | 9630 |
| Length, m | 155.5 pp 165.0 wl 168.1 oa |
| Breadth, m | 18.0 wl 22.7 fd |
| Draught, m | 6.17 |
| No of shafts | 2 |
| Machinery | 2 Parsons steam turbines, 8 Kampon boilers |
| Power, h. p. | 30000 |
| Max speed, kts | 25 |
| Fuel, t | oil 2700, coal 940 |
| Endurance, nm(kts) | 8000(15) |
| Armament | 4 x 1 - 140/50 3-shiki, 4 x 1 - 76/40 3-shiki, 2 x 1 - 7.7/80, 26 aircraft (1MF fighters, 2MR recon planes, 1MT1, 2MT/3MT torpedo bombers) |
| Complement | 550 |
Air group
| Year | Fighters | recon planes | torpedo bombers |
| --- | --- | --- | --- |
| 1923 | 7 1MF | 4 2MR | 6 1MT |
| 1926 | 9 A1N | 3 C1M | 3 B1M |
| 7.1937 | 9 A4N | --- | 9 B3Y |
| 12.1941 | 11 A5M4 | --- | --- |
| 6.1942 | --- | --- | 8 B5N2 |
Standard scale images

Hosho 1942

Hosho 1922
Graphics
Aircraft facilities
(fd - 3,820m², ha - ?m² / ?m³): Flight deck: 168.3x22.7m. Fore hangar, upper aft hangar and lower aft hangar (Length summary: 92m). There were fore (9.0x9.0m) and aft (12.5x7.0m) lifts. Aircraft fuel stowage: ?.
Project history
She was laid down as naval tanker, originally named Hiryu. In 1920 the decision on completion of a vessel as an aircraft carrier was accepted. British experts participated in designing. After launch Hosho was towed to Yokosuka N Yd for completion. The planned second sister-ship Shokaku was never laid down in accordance with decisions of Washington conference of 1922. For simplification of aircrafts taking-off flight deck in the fwd quarter has received some angle. Interesting feature of architecture were three funnels placed on the starboard side and capable to be fold on an 90°-angle (to moderate harmful effect of a smoke and air vortexes on aircrafts landing).

Originally Hosho had island on starboard side, but in 1923 it was demounted, and ship has gained flush-deck outline profile which has become characteristic for whole generation of Japanese aircraft carriers. Simultaneously an angle of a fore part of flight deck was eliminated. In 1934-1936 funnels were fixed in horizontal position, flight deck was a little altered, boilers were converted to oil-firing.
Modernizations
1923: island superstructure was removed, fore part of flight deck was done flat.

1936: - 2 x 1 - 7.7/80; + 6 x 2 - 13.2/76, full displacement increased to 10797 t, funnels were fixed in vertical position.

10/1940: - 2 x 1 - 76/40; + 4 x 2 - 25/60 96-shiki

late 1942: - 4 x 1 - 140/50; + 4 x 2 - 25/60 96-shiki

1944: flight deck was lengthened to 180.8 m, new lifts were fitted (fore: 8.5 x 12.8 m and aft: 13.7 x 11.0 m), funnels were inclined down; - 2 x 1 - 76/40

6/1945: - 5 x 2 - 25/60
Naval service
In 1942, soon after Midway, Hosho was re-rated to training carrier. Hosho was damaged by American carrier aircraft in Kure 28.7.1945. After war some time she was used for repatriation and broken up in 1947.