Photo
Niitaka
Ships
| Name | No | Yard No | Builder | Laid down | Launched | Comp | Fate |
| --- | --- | --- | --- | --- | --- | --- | --- |
| 新高 [Niitaka] |   |   | Yokosuka K K | 7.1.1902 | 15.11.1902 | 27.1.1904 | foundered 26.8.1922 |
| 対馬 [Tsushima] |   |   | Kure K K | 1.10.1901 | 15.12.1902 | 14.2.1904 | stricken 1936 |
Technical data
| | |
| --- | --- |
| Displacement normal, t | 3366 |
| Displacement full, t | 3716 |
| Length, m | 102.0 pp 103.5 wl 104.1 oa |
| Breadth, m | 13.4 |
| Draught, m | 4.92 |
| No of shafts | 2 |
| Machinery | 2 VTE, 16 Niclausse boilers |
| Power, h. p. | 9500 |
| Max speed, kts | 20 |
| Fuel, t | coal 600 |
| Endurance, nm(kts) | 4000(10) |
| Armour, mm | shields: 25, deck: 38 with 64mm slopes, CT: 102 |
| Armament | 6 x 1 - 152/40 Armstrong Z, 10 x 1 - 76/40 Armstrong N, 4 x 1 - 47/30 21/2pdr Hotchkiss Mk I |
| Complement | 320 |
Standard scale images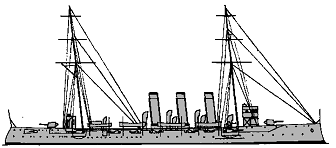 Niitaka 1905
Graphics
Project history
This was the second cruiser class built to a completely Japanese design. There was little difference between these ships and the earlier Japanese designed Sumo class. They were somewhat larger and the increased displacement helped the designers to overcome certain of the faults experienced with the Suma. As before freeboard was high, but the 152mm guns, which replaced the 120mmn of the Suma, in broadside sponsons were sited slightly lower down on the hull. No fighting tops were fitted to the masts. The combination of a much heavier armament sited lower down resulted in a more seaworthy and powerful vessel, which outclassed many other contemporary protected cruisers.
Ship protection
38mm deck had 64mm slopes, machinery was protected by 76mm glacis. Guns were protected by 25mm shields. CT had 102mm sides.
Modernizations
1922, Tsushima: - 2 x 1 - 76/40, 4 x 1 - 47/30

1924, Tsushima: + 1 x 1 - 76/40 3-shiki
Naval service
To the First World War beginning they become outdated, however were actively attracted for patrol and cruiser service. Both ships 1.9.1921 were reclassified to 2nd class coast defence ships. Niitaka 26.8.1922 was wrecked at Kamchatka coast (284 dead) during typhoon. Tsushima was disarmed in 1930, stricken in 1936 and converted to a hulk, scuttled in 1944.