Photo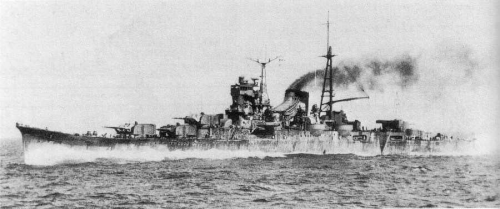 Mogami 1935
Ships
| Name | No | Yard No | Builder | Laid down | Launched | Comp | Fate |
| --- | --- | --- | --- | --- | --- | --- | --- |
| 最上 [Mogami] |   |   | Kure K K | 27.10.1931 | 14.3.1934 | 28.7.1935 | sunk 25.10.1944 |
| 三隈 [Mikuma] |   | 520 | Mitsubishi, Nagasaki | 24.12.1931 | 31.5.1934 | 29.8.1935 | sunk 6.6.1942 |
| 鈴谷 [Suzuya] |   |   | Yokosuka K K | 11.12.1933 | 20.11.1934 | 31.10.1937 | sunk 25.10.1944 |
| 熊野 [Kumano] |   | 590 | Kawasaki, Kobe | 5.4.1934 | 15.10.1936 | 31.10.1937 | sunk 25.11.1944 |
| 伊吹 [Ibuki] |   |   | Kure K K | 24.4.1942 | 21.5.1943 | --- | built as aircraft carrier from 12.1943, BU incomplete |
| 第301号艦 [301-go] |   |   | Mitsubishi, Nagasaki | 1.1.1942 | --- | --- | BU incomplete |
Technical data
Displacement standard, t

Mogami, Mikuma: 8500

Suzuya, Kumano: 11200

Displacement full, t

Mogami, Mikuma: 13758

Suzuya, Kumano: 13881

Length, m

189.0 pp 198.3 wl 200.6 oa

Breadth, m

Mogami, Mikuma: 19.0

Suzuya, Kumano: 20.2

Draught, m

Mogami, Mikuma: 5.50

Suzuya, Kumano: 5.90

No of shafts

4

Machinery

Mogami, Mikuma: 4 sets Kampon geared steam turbines, 10 Kampon boilers

Suzuya, Kumano: 4 sets Kampon geared steam turbines, 8 Kampon boilers

Power, h. p.

152000

Max speed, kts

Mogami, Mikuma: 37

Suzuya, Kumano: 35

Fuel, t

oil 2215 - 2302

Endurance, nm(kts)
8150(14)
Armour, mm
belt: 100 (machinery) or 140 (magazines), bulkheads: 105, deck: 60 - 35, turrets: 25, barbettes: 25
Armament

Mogami, Mikuma: 5 x 3 - 155/60 3-shiki, 2 x 2 - 127/40 89-shiki, 2 x 1 - 40/62 HI 91-shiki, 4 x 3 - 610 TT (24), 3 seaplanes (2 E4N2, 1 E7K1), 2 catapults

Suzuya, Kumano: 5 x 3 - 155/60 3-shiki, 4 x 2 - 127/40 89-shiki, 4 x 2 - 25/60 96-shiki, 2 x 2 - 13.2/76, 4 x 3 - 610 TT (18), 3 seaplanes (2 E4N2, 1 E7K1), 2 catapults

Complement

850
Standard scale images

Mikuma 1941

Mogami 1943

Suzuya 1941
Graphics
Project history
London Naval Treaty of 1930 interrupted a line of development of Japanese "official" Washington cruisers: with completion of four ships of Takao class the limit for ships with 203mm artillery has been exhausted (as well as for majority of countries which have signed the document). At the same time this treaty has generated a new subclass of cruisers (so-called "B class") with artillery in calibre not above 155mm. Their building also has been linked by limitations on the total tonnage, however by various shifts Japan has had an opportunity on quite lawful reasons to build till 1936 (end date) some number of cruisers with total standard displacement not above 50955t. Naval Staff has considered, that for optimum usage of this tonnage it is necessary to laid down four 8500t ships, and then two more 8450t ones.

Four 8500t cruisers (future Mogami class) have been included into 1st Supplementary program of 1931. Designing was conducted on the basis of the documentation of "advanced Takao": heavy cruisers scheduled to building, but laid down because of signing of London Treaty. According to the Naval Staff requirements, new cruiser should have 15 155mm guns in five triple turrets with 75° elevation angle and four triple trainable 610mm TT on upper deck. Requirements to protection basically repeated shown to previous cruisers with 203mm guns (protection of magazines against 203mm, and machinery against 155mm shells). Speed was defined higher: 37kts. Possibility of fast replacement of 155mm turrets by twin 203mm turrets especially made a reservation.

Even more rigid, in comparison with shown to 10000t cruisers, requirements did not leave hope of possibility to be stowed in declared 8500t standard displacement. Despite maximum hull lightening (at the expense of welding), in 1931 project displacement already reached 9500t.

Outwardly Mogami class cruisers differed from the predecessors by integrating of all funnels smoke ducts into one massive funnel and changed arrangement of main turrets in fore group.

Feature of protection scheme of Mogami class cruisers became flat (unlike curved on previous classes) anti-torpedo bulkhead which was structurally being continuation of armoured belt. The angle of dip of 100mm belt (65mm at lower edge) made 20°. On upper edge anti-torpedo bulkhead had 65mm thickness; being dipped to a double bottom, its thickness decreased to 25mm. Abreast magazines thickness of belt and anti-torpedo bulkhead increased to 140 mms (on waterline), decreasing near double bottom to 30mm. Total length of waterline belt was 110.5m. Main deck over machinery had 60-35mm thickness (on slopes), magazines were covered by 40mm lower deck.

Already during the building design received a number of changes, called to improve stability parameters. As the reason for it the tragedy with a torpedo boat Tomozuru, overturned in March, 1934 because of an insufficient stability has served. On all four ships they have moderated height of superstructures, liquidated hangar provided originally for seaplanes. Besides, on even being on slipways Suzuya and Kumano they have moderated tweendeck height and have shrunk number of boilers from 10 to 8. At trials of lead Mogami it has appeared, that the ship hull is too weak and on least roughness it become deformed. Despite carried out repairs, soon after commission Mogami and Mikuma have got to a typhoon, having received so serious hull damages, that Naval Staff had been brought an attention to the question on necessity of update of the project. Completion of Suzuya and Kumano had suspended. After study of character and the reasons of ships damages in summer 1936 they have developed modernized design: majority of welded joints in high-loaded links were replaced by riveting; longitudinal links were strengthened; for athwartship stability increase large bulges over original ones were fitted. Hull beam on waterline has thus increased from 18.0 to 19.2m, and maximal to 20.2 m. Standard displacement has increased to 11200t. Maximal speed has decreased to 35kts. Besides, temporarily mounted on Mogami and Mikuma 120mm/45 guns were replaced by regular twin 127mm/40 mounts, and small AA armament was supplemented by 4x2 25mm 2х2 13.2mm MGs. On Mogami and Mikuma modernization proceeded till 1938 and 1937 respectively, and on Suzuya and Kumano it has coincided with completion. In 1939-1940 all four cruisers were re-armed with 203mm guns, provided on a design stage.
Ship protection
Inner 20°-inclined 110.5m-long main belt protected machinery spaces, connecting with anti-torpedo bulkhead by lower edge. Its height was 6.5m at length 78.2m on Mogami and Mikuma and 74.2m on Suzuya and Kumano (with anti-torpedo bulkhead summary). Its thickness was 100mm on upper edge, tapering to 65mm on lower edge, connected with 65mm upper edge of longitudinal bulkhead. Thickness of bulkhead decreased to 25mm near double bottom. Belt was closed by 105mm transverse bulkheads. Magazines were protected by narrower belts (4.5m in height summary with longitudinal bulkhead, upper edge of belt was in 0.1m above wl). Its thickness changed from 140mm at upper edge to 30mm near double bottom. Medium belt was connected with main 35mm deck by 20°-inclined 60mm slopes. Magazines were protected by flat 40mm lower deck. Steering gear compartment was protected by 100mm longitudinal and 35mm transverse bulkheads and 30mm medium deck. Underwater protection consisted of bulges and longitudinal bulkhead, its deep was about 3.3m. Guns had 25mm turrets and 25mm barbettes. CT had 100mm sides and 50mm roof.
Modernizations
(1936 - 2.1938), Mogami; (1936 - 10.1937), Mikuma: - 2 x 1 - 40/62; + 2 x 2 - 127/40 89-shiki, 4 x 2 - 25/60 96-shiki, 2 x 2 - 13.2/76, torpedo stowage decreased to 18. New additional bulges were fitted, breadth increased to 20.6m and displacement to 12400 / 15057t (after replacing of main guns), maximal speed fell to 35kts.

1/1939 - 4.1940, all: - 5 x 3 - 155/60; + 5 x 2 - 203/50 3-shiki 2-go, catapults were replaced by more powerful, torpedo stowage increased to 24 totally. Displacement was 12400 / 15057 (first 2) or 12000 / 14795t.

(9/1942 - 4.1943, Sasebo K K), Mogami: - 2 x 2 - 203/50 (No 4, 5), 4 x 2 - 25/60, 2 x 2 - 13.2; + 10 x 3 - 25/60 96-shiki, 1-shiki 2-go radar, aircraft capacity increased to 11 seaplanes (7 E13A1 and 4 F1M2). Complement was 930, displacement 12206 / 13940t, draught 5.89m, maximal speed increased from 34.7 to 35kts.

4/1943, Suzuya, Kumano: - 2 x 2 - 13.2/76; + 4 x 3 - 25/60 96-shiki, 1-shiki 2-go radar

1 - 4.1944, all survived: + 8 x 1 - 25/60 96-shiki

6 - 7.1944, Mogami, Suzuya: + 4 x 3 - 25/60 96-shiki, 10 x 1 - 25/60 96-shiki, 2-shiki 2-go, 3-shiki 1-go radars

6 - 7.1944, Kumano: + 4 x 3 - 25/60 96-shiki, 16 x 1 - 25/60 96-shiki, 2-shiki 2-go, 3-shiki 1-go radars
Naval service
Mikuma 6.6.1942 in battle at Midway was sunk by US carrier aircraft (carriers Hornet and Enterprise).

Suzuya was hard damaged 25.10.1944 at Samar by US carrier torpedo bombers and sunk by destroyers of escort.

Mogami 6.6.1942 was hard damaged by US carrier aircraft. Repair lasted till April, 1943. 5.11.1943 she was damaged by US carrier aircraft. Repair lasted till mid-February, 1944. 25.10.1944 in battle in Surigao Strait she was hard damaged at night by gunfire of US cruisers and consequent fire and also as a result of collision with cruiser Nachi. Maximal speed fell to 18 kts, 127-mm magazines and 5 torpedoes detonated in cause of fire, most machinery was demolished. Later she was a target for US heavy and light cruisers (10 - 20 hits) and later for 17 torpedo bombers. She got 2 227-kg bombs and fire newly started. Cruiser was abandoned and torpedoed by destroyer Akebono.

Kumano 20.7.1943 was damaged by US aircraft and was under repair till October, 1943. 25.10.1944 she was torpedoed by destroyer Johnston, next day received new damages at raid of US carrier aircraft. 6.11.1944 en route from Manila (after temporary repair, maximal speed did not exceed 6kts) to Japan she was hard damaged by two torpedoes from US submarine Ray. 25.11.1944 she was sunk by US carrier aircraft (Ticonderoga air group) in Santa Cruz harbour of Luzon (hits of five air torpedoes and four bombs).



Many thanks to Wolfgang Stöhr for additional information on this page.