Photo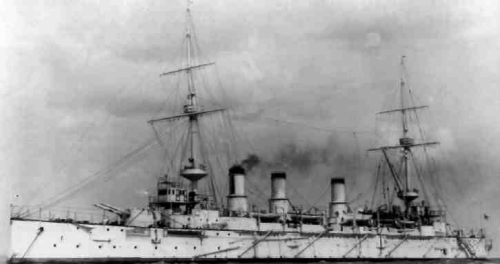 Adzuma 1900
Ships
| Name | No | Yard No | Builder | Laid down | Launched | Comp | Fate |
| --- | --- | --- | --- | --- | --- | --- | --- |
| 吾妻 [Adzuma] |   |   | A C de la Loire, St. Nazaire, France | 3/1898 | 24.6.1899 | 28.7.1900 | TS 1914, hulk 1941 |
Technical data
| | |
| --- | --- |
| Displacement normal, t | 9307 |
| Displacement full, t | 9953 |
| Length, m | 131.5 pp 137.9 oa |
| Breadth, m | 20.9 |
| Draught, m | 7.21 |
| No of shafts | 2 |
| Machinery | 2 VTE, 24 Belleville boilers |
| Power, h. p. | 17000 |
| Max speed, kts | 20 |
| Fuel, t | coal 1275 |
| Endurance, nm(kts) | 7000(10) |
| Armour, mm | belt: 178 - 89, bulkheads: 152, upper belt: 127, barbettes: 152, turrets: 152, casemates: 152 - 51, deck: 63 - 51, CT: 356 - 76, fwd torpedo room: 152 |
| Armament | 2 x 2 - 203/45 Armstrong U, 12 x 1 - 152/40 Arsmtrong Z, 12 x 1 - 76/40 Armstrong N, 12 x 1 - 47/40 3pdr Hotchkiss Mk I, 5 - 450 TT (1 bow, 4 beam) |
| Complement | 650 |
Standard scale images

Adzuma 1900
Graphics
Project history
Although the length was slightly increased in the Adzuma, her displacement was slightly less than the previous cruisers. This was partly because, unlike the British-built armoured cruisers, she lacked an after armoured bulkhead, as did the Yakumo. In spite of an average decrease of about 400t in displacement the Adzuma was no faster than the earlier cruisers, and developed 1500 hp more than Yakumo.
Ship protection
Main 178mm belt had 64m length (inside barbettes) and 2.1m height, closed by 152mm bulkheads abreast barbettes. Its thickness was 89mm outside barbettes. Upper 127mm belt had dimensions 64x2.1m. 51mm deck was connected with lower edge of main belt by 76mm slopes. It has turtleback form and 63-51mm thickness outside barbettes. CT had 356mm sides and 76mm roof. All 8`` and 4 6`` guns and fore torpedo room had 152mm protection, 8 6`` guns amidships were protected by only 51mm armor.
Modernizations
1924: - 4 x 1 - 76/40, 4 x 1 - 47/40, 3 - 450 TT; + 1 x 1 - 76/40 3-shiki

1930: boilers were replaced by 6 Yarrow (oil- and coal-burning), engine power decreased to 9400hp and maximal speed to 16kts; - 4 x 1 - 152/40, 4 x 1 - 76/40, 3 x 1 - 47/40, 2 - 450 TT
Naval service
Adzuma actively participated in the Russian-Japanese war and since 1914 she was used as TS. Ship was reclassified as 1st class coast defense ship in September 1921. In 1941 Adzuma was converted to a hulk, hard damaged by American aircraft 18.7.1945 and handed over for scrap in 1946.