Photo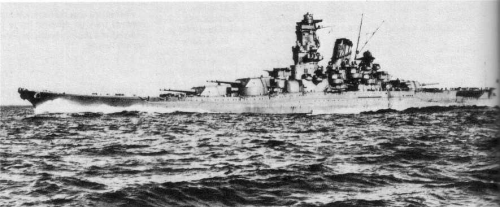 Yamato 1941
Ships
| Name | No | Yard No | Builder | Laid down | Launched | Comp | Fate |
| --- | --- | --- | --- | --- | --- | --- | --- |
| 大和 [Yamato] |   |   | Kure K K | 4.11.1937 | 8.8.1940 | 16.12.1941 | sunk 7.4.1945 |
| 武蔵 [Musashi] |   | 800 | Mitsubishi, Nagasaki | 29.3.1938 | 1.11.1940 | 5.8.1942 | sunk 24.10.1944 |
| 信濃 [Shinano] |   |   | Yokosuka K K | 4.5.1940 | --- | --- | completed as carrier 1944 |
| 第111号艦 [No111] |   |   | Kure K K | 7.11.1940 | --- | --- | BU incomplete 3.1942 |
Technical data
Displacement standard, t

63200

Displacement full, t

72810

Length, m

244.0 pp 256.0 wl 263.0 oa

Breadth, m

36.9

Draught, m

10.4

No of shafts

4

Machinery

4 sets Kampon geared steam turbines, 12 Kampon boilers

Power, h. p.

150000

Max speed, kts

27

Fuel, t

oil 6300

Endurance, nm(kts)

7200(16)

Armour, mm

belt: 410, bulkheads: 300, main deck: 230 - 200, upper deck: 50 - 35, barbettes: 560 - 380, turrets: 650 - 190, CT: 500 - 300

Armament

Yamato: 3 x 3 - 460/45 94-shiki, 4 x 3 - 155/60 3-shiki, 6 x 2 - 127/40 89-shiki, 8 x 3 - 25/60 96-shiki, 2 x 2 - 13.2/76, 2 catapults, 7 seaplanes (F1M2)

Musashi: 3 x 3 - 460/45 94-shiki, 4 x 3 - 155/60 3-shiki, 6 x 2 - 127/40 89-shiki, 4 x 3 - 25/60 96-shiki, 2 x 2 - 13.2/76, 2 catapults, 7 seaplanes (F1M2)

Complement

2500
Standard scale images

Yamato 1941

Yamato 1945

Yamato 1941
Graphics
Project history
Largest warships of the time of the Second World War and ultimately largest battleships in the world history. The history of creation of these battleships goes back to 1934 when Japan, which has abandoned League of the Nations, accepted the basic decision to ignore the arrangement on limitation of naval armaments. Abandoning from compliance of 35000t displacement limits allowed by the Washington Threaty, Japanese designers returned to the ideas taken as a principle of the ships of the "8-8" Programme: the individual superiority over any battleship of the potential enemy. That fact was thus considered, that the basic contender on Pacific ocean, the USA, at designing of the battleships of new generation will be compelled to be guided by dimensions of Panama canal locks. From 1934 till 1935 in Japan 24 designs of a new battleship (displacement from 49000 to 68000t, speed from 24 to 31kts, 410 or 460mm main guns) have been prepared and considered. By October, 1935 future general performances of Yamato were in general defined: 9 460mm guns, 27kt speed, combined diesel/turbine machinery, armour protection against 457mm shells. At preparing of detailed drawings idea of installation on the ships of cruising diesels have refused, as replacement of so large units will be in case of need interfaced to the big difficulties. After the modification, concerning transition to pure steam-turbine machinery, the design was ultimately ready in March, 1937.

The hull of new battleships had a number of interesting constructive decisions: the bow bulb reducing wave resistance (it has allowed to spare about 15000hp of engine power); appreciable deck sheer around fwd main turrets. 460mm main guns took places in three triple turrets which had thickest in history of world shipbuilding face armour (650mm). The main calibre was supplemented by 12 155mm guns in triple turrets (earlier they were installed on Mogami class cruisers) and 6 twin 127mm AA mounts. The armour protection was designed to providing of an immune zone under 457mm shells in a band from 20000 to 30000 m and ability to maintain 1000kg air bomb hit, dumped from 15000`(4572m) height. 410mm main belt on a waterline with about 5.8m height had 20° declination outside. Transverse bulkheads were 300mm (fwd) and 270-300mm (aft) also were inclined outside at 25° angle. Main longitudinal anti-torpedo bulkhead was connected with lower edge of main belt, throughout machinery dipped to the bottom. It also was fulfilled raking, but under a smaller angle (15°). At upper edge this armoured bulkhead had a 270mm thickness (abreast magazines) or 200mm (abreast machinery), tapering at lower edge to 75mm. Horizontal protection consisted of a main deck in the 230-200mm thickness, connected with upper edge of the main belt. Below it was thin (9mm) splinter deck. The upper 50-35mm deck served for raising of bomb fuses and, besides, protection of the hull against damages at shooting of own main guns. The 80mm armour deck under magazines, provided for protection against underwater explosions became interesting feature. Armour mass reached 22534t.

First two ships were ordered in 1937 within the limits of 3rd Supplementary Programme, two more in 1939 under 4th Supplementary Programme. Works on Shinano have been suspended in December, 1941 at 50% availability. Subsequently, to exempt dock in which the battleship was built, works have renewed, but were conducted very slowly. After Midway it has been decided to convert the ship to aircraft carrier. Building of a battleship with No111, being in 30% hull availability, have suspended in November, 1941, and in September, 1942 this order was cancelled, and the hull was broken up in 1942-1943. Under the 1942 Programme it was supposed to build one more ship (she is known as No797), however she was never ordered.

Last three ships should differ a little from Yamato and Musashi. The thickness of the belt decreased to 400mm, main deck to 190mm. At the expense of it it was planned to install stronger AA battery consisted from 8-10 twin 100mm mounts.
Ship protection
20°inclined main belt was 5.8m high reaching main deck or over main deck abreast fore barbettes and had 410mm thickness. It closed by 300mm fore and 300-270mm aft bulkheads abreast end barbettes, these bulkheads were inclined at 25°. Anti-torpedo longitudinal bulkhead was 15°inclined and connected with lower edge of main belt. Its thickness was 270mm abreast magazines or 200mm abreast machinery tapering to 75mm at lower edge. Main 200mm deck connected with upper edge of main belt by 7°inclined 230mm outer parts (nearly slopes). 10mm splinter deck was placed 0.7m lower from main deck. Upper deck had 50-35mm protection. Magazines were protected from underwater explosions by 80mm platforms under them. Turrets had 650mm faces, 250mm sides and 270mm crowns. Secondary turrets had 75mm faces and 25mm sides and roofs, their barbettes had 75mm thickness. CT had 500mm sides and 200mm roof. Steering gears had 360-350mm (main) or 300-200mm (reserve) sides and 200mm roofs. Underwater protection was 8m deep and content 270-75mm longitudinal bulkhead.
Modernizations 9.
1942, Musashi: + 8 x 3 - 25/60 96-shiki, 1-shiki 2-go radar

7/1943, Yamato: thickness of beam 155mm barbettes was increased to 103mm. + 4 x 3 - 25/60 96-shiki, 1-shiki 2-go radar

7/1943, Musashi: + 2x 2-shiki 2-go radars

3/1944, Yamato: - 2 x 3 - 155/60 (beam); + 6 x 2 - 127/40 89-go, 24 x 3 - 25/60 96-shiki, 26 x 1 - 25/60 96-shiki, 3-shiki 1-go, 2x 2-shiki 2-go radars

4/1944, Musashi: - 2 x 3 - 155/60 (beam); + 18 x 3 - 25/60 96-shiki, 25 x 1 - 25/60 96-shiki, 3-shiki 1-go radar

7/1944, both: + 5 x 3 - 25/60 96-shiki

11/1944, Yamato: - 24 x 1 - 25/60; + 9 x 3 - 25/60 96-shiki
Naval service
Musashi 29.3.1944 was damaged by a torpedo from American submarine Tunny, and repaired till the end of April. 24.10.1944 she was sunk in Sibuyan Sea by American carrier aircraft of TF.38 (10-12 torpedo and 17 227-454kg bomb hits).

Yamato 25.12.1943 was damaged by a torpedo from American submarine Skate, and repaired till the middle of April, 1944. During battle in Leyte Gulf 24-26.10.1944 she was damaged by American carrier aircraft (3 bomb hits), repaired till the end of a year. 19.3.1945 she was damaged by American air bomb. 7.4.1945 she was sunk by American carrier aircraft of TF.58 in 130nm SE off Kagoshima island (11-13 torpedo and 8 227-454kg bomb hits).

Musashi (right)

Many thanks to Wolfgang Stöhr for additional information on this page.