Photo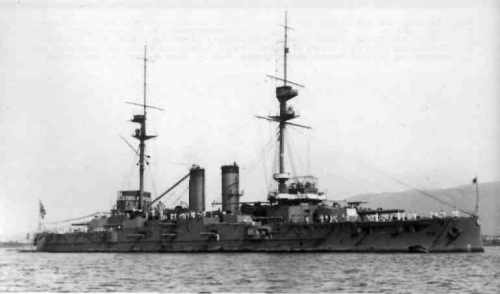 Kashima
Ships
| Name | No | Yard No | Builder | Laid down | Launched | Comp | Fate |
| --- | --- | --- | --- | --- | --- | --- | --- |
| 鹿島 [Kashima] |   | 755 | Armstrong, Elswick, UK | 29.2.1904 | 22.3.1905 | 23.5.1906 | stricken 9.1923 |
| 香取 [Katori] |   | 318 | Vickers, Barrow, UK | 27.4.1904 | 4.7.1905 | 20.5.1906 | stricken 9.1923 |
Technical data
Displacement normal, t

Kashima: 16400

Katori: 15950

Displacement full, t

Kashima: 17200

Katori: 16663

Length, m

Kashima: 128.0 pp 139.6 oa

Katori: 129.5 pp 139.0 oa

Breadth, m

23.8

Draught, m

Kashima: 8.10

Katori: 8.20

No of shafts

2

Machinery

2 4-cyl VTE, 20 Niclausse boilers

Power, h. p.

Kashima: 16600

Katori: 15800

Max speed, kts

18.5

Fuel, t

Kashima: coal 2200, oil 750

Katori: coal 2150, oil 377

Endurance, nm(kts)
10000(10)
Armour, mm

belt: 229 - 102 (fwd) - 64 (aft), upper belt: 152, deck: 51 with 76mm slopes, main gun barbettes: 305 - 127, main gun turrets: 229, 305mm gun barbettes: 152, 254mm gun turrets: 203, CT: 229

Armament

Kashima: 2 x 2 - 305/45 Armstrong J, 4 x 1 - 254/45 Armstrong T, 10 x 1 - 152/45 Armstrong GG, 16 x 1 - 76/50 Armstrong CC, 3 x 1 - 47/40 3pdr Hotchkiss Mk I, 5 - 450 TT (1 bow, 4 beam)

Katori: 2 x 2 - 305/45 Vickers A, 4 x 1 - 254/45 Vickers B, 10 x 1 - 152/45 Vickers D, 16 x 1 - 76/50 Vickers N, 3 x 1 - 47/40 3pdr Hotchkiss Mk I, 5 - 450 TT (1 bow, 4 beam)

Complement

864
Standard scale images

Kashima 1906
Graphics
Project history
Ordered on the eve of the Russo-Japanese War, these were the last foreign-built Japanese battleships, approximately equivalent to the contemporary British King Edward VII class, except that the 234mm guns of the former were replaced by 254mm weapons. They had two more 152mm guns than the British ships, but somewhat less armour (eg 152mm rather than 178mm over the 152mm battery). They were the last Japanese capital ships with ram bows.

Katori made 20.22kts on 18,500ihp on 8 hour full-power trial. Her funnels were closer together than those of Kashima, and her after funnel was oval rather than round.
Ship protection
Main belt placed on full ship length and was 2.4m heigh (including 0.8m above the waterline at normal load). Its thickness was 229mm amidships and 64mm at ship ends. Upper 4.6m-wide belt was 152mm-thick and protected majority of 152mm guns. 51mm armoured deck over citadel connected with lower edge of main belt by 76mm slopes. Outside citadel it had turtleback form and was 64mm-thick. Main gun barbettes had 203-152mm protection, intermediate barbettes had 152mm armour. Casemate between intermediate barbettes had 102mm armour. Main gun turrets had 229mm faces, intermediate turrets had 203mm faces. CT had 229mm sides.
Modernizations
1916, both: - 6 x 1 - 76/50; + 2 x 1 - 76/40 3-shiki
Naval service
They were disarmed in April, 1922 and sold for BU in 1924-1925.



Many thanks to Wolfgang Stöhr for additional information on this page.