Photo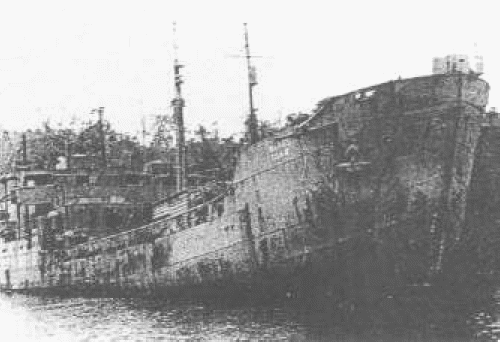 Ships
| Name | No | Yard No | Builder | Laid down | Launched | Comp | Fate |
| --- | --- | --- | --- | --- | --- | --- | --- |
| 古流丸[Koryu Maru], 1944- 第1[1-go] |   |   | Harima Zosen, Harima | 1941 | 1942 | 4.1942 | sunk 13.1.1945 |
| 蟠龍丸[Banryu Maru], 1944- 第2[2-go] |   |   | Harima Zosen, Harima |   | 1943 | 7.1943 | sunk 13.9.1944 |
| 海龍丸[Kairyu Maru], 1944- 第3[3-go] |   |   |   |   | 1943 | 1943 | sunk 27.3.1944 |
| 第4[4-go] |   |   |   |   | 1943 | 1944 | sunk in autumn 1944 |
| 第5[5-go] |   |   |   |   | 1943 | 1944 | sunk 30.11.1944 |
| 第6[6-go] |   |   |   |   | 1943 | 1944 | sunk 4.12.1944 |
| 第7[7-go] |   |   |   |   | 1943 | 1944 | surrendered 8.1945, sold mercantile 1946 |
| 第8[8-go] |   |   |   |   | 1943 | 1944 | lost 1944/45 |
| 第9[9-go] |   |   |   |   | 1943 | 1944 | sunk 4.12.1944 |
| 第10[10-go] |   |   |   |   | 1943 | 1944 | sunk 1944/45 |
| 第11[11-go] |   |   |   |   | 1943 | 1944 | sunk in spring 1945 |
| 第12[12-go] |   |   |   |   | 1943 | 1944 | surrendered 8.1945, sold mercantile 1946 |
| 第13[13-go] |   |   |   |   | 1943 | 1944 | wrecked 8.1945 |
| 第14[14-go] |   |   |   |   | 1944 | 1944 | lost 1945 |
| 第15[15-go] |   |   |   |   | 1944 | 1944 | lost 1945 |
| 第16[16-go] |   |   |   |   | 1944 | 1944 | surrendered 8.1945, lost 4.1946 |
| 第17[17-go] |   |   |   |   | 1944 | 1945 | lost 5.6.1945 |
| 第18[18-go] |   |   |   |   | 1944 | 1945 | surrendered 8.1945, sold mercantile 1946 |
| 第19[19-go] |   |   |   |   | 1944 | 1945 | surrendered 8.1945, sold mercantile 1946 |
| 第20[20-go] |   |   |   |   | 1944 | 1945 | wrecked 20.5.1945 |
| 第21[21-go] |   |   |   |   | 1944 | 1945 | sunk 1.6.1945 |
| 第22[22-go] |   |   |   |   | 1944 | 1945 | sunk 8.8.1945 |
| 第23[23-go] |   |   | Sanko, Osaka |   | 1944 | --- | completed mercantile 1946 |
| 第24[24-go] |   |   | Ohara, Osaka | 3.1944 | 1945 | --- | sunk incomplete 1945 |
| 第25[25-go] |   |   | Kowloon, Hong Kong | 1944 | --- | --- | BU incomplete |
| 第26[26-go] |   |   | Kowloon, Hong Kong | 1944 | --- | --- | BU incomplete |
| 第27[27-go] |   |   | Kowloon, Hong Kong | 1944 | --- | --- | BU incomplete |
100 - 1000 t displacement/ BRT tonnage vessels
Name No Yard No Builder Laid down Launched Comp Fate 古流丸[Koryu Maru], 1944- 第1[1-go] Harima Zosen, Harima 1941 1942 4.1942 sunk 13.1.1945 蟠龍丸[Banryu Maru], 1944- 第2[2-go] Harima Zosen, Harima 1943 7.1943 sunk 13.9.1944 海龍丸[Kairyu Maru], 1944- 第3[3-go] 1943 1943 sunk 27.3.1944 第4[4-go] 1943 1944 sunk in autumn 1944 第5[5-go] 1943 1944 sunk 30.11.1944 第6[6-go] 1943 1944 sunk 4.12.1944 第7[7-go] 1943 1944 surrendered 8.1945, sold mercantile 1946 第8[8-go] 1943 1944 lost 1944/45 第9[9-go] 1943 1944 sunk 4.12.1944 第10[10-go] 1943 1944 sunk 1944/45 第11[11-go] 1943 1944 sunk in spring 1945 第12[12-go] 1943 1944 surrendered 8.1945, sold mercantile 1946 第13[13-go] 1943 1944 wrecked 8.1945 第14[14-go] 1944 1944 lost 1945 第15[15-go] 1944 1944 lost 1945 第16[16-go] 1944 1944 surrendered 8.1945, lost 4.1946 第17[17-go] 1944 1945 lost 5.6.1945 第18[18-go] 1944 1945 surrendered 8.1945, sold mercantile 1946 第19[19-go] 1944 1945 surrendered 8.1945, sold mercantile 1946 第20[20-go] 1944 1945 wrecked 20.5.1945 第21[21-go] 1944 1945 sunk 1.6.1945 第22[22-go] 1944 1945 sunk 8.8.1945 第23[23-go] Sanko, Osaka 1944 --- completed mercantile 1946 第24[24-go] Ohara, Osaka 3.1944 1945 --- sunk incomplete 1945 第25[25-go] Kowloon, Hong Kong 1944 --- --- BU incomplete 第26[26-go] Kowloon, Hong Kong 1944 --- --- BU incomplete 第27[27-go] Kowloon, Hong Kong 1944 --- --- BU incomplete
Technical data
Displacement normal, t
948
Displacement full, t
 
Length, m

59.6 pp 63.0 oa

Breadth, m

9.60

Draught, m

2.79

No of shafts

2

Machinery

2 diesels

Power, h. p.

1100

Max speed, kts

13.5

Fuel, t
diesel oil
Endurance, nm(kts)
2000(12)
Armament

1-go - 3-go: 1 x 1 - 75/44 4-shiki, 4 x 1 - 20/65 98-shiki, 4 x 1 - 7.7/80, 1 x 1 - 150/12 96-shiki mortar

4-go - 22-go: 1 x 1 - 76/40 11-shiki, 4 x 1 - 25/60 96-shiki, 1 x 1 - 150/12 96-shiki mortar

Military load
4 15t tanks, 1 truck, 170 troops
Complement
 
Graphics
Project history
The design was developed on IJA order, but control over building and subsequent operation of majority of them realised by IJN. Represented usual cargo vessels adapted for transportation of military cargo and troops. Engine and superstructure took places at aft end, amidships part of the hull has been occupied by two large holds. Fore end had icebreaking form that allowed the ship to come nearer closely to a shore. Beaching was realised through a folding gangway port.

First SS1-3 originally were under Army control and were named. In 1944 they were transferred to IJN and numbered. Remaining ships were transferred under naval control even before completion. At least five ships of the class remained incomplete. Incomplete SS24 was sunk by US aircraft in 1945 at Osaka. Incomplete 23-go was badly damaged at Osaka in August, 1945 by US aircraft and completed later mercantile.
Modernizations
1944, 1-go, 2-go: - 1 x 1 - 75/44, 4 x 1 - 20/65; + 1 x 1 - 76/40 11-shiki, 4 x 1 - 25/60 96-shiki
Naval service
17 ships of this class were lost in days of war: SS3 (sunk 27.3.1944 by submarine near New Guinea), SS4 (lost in autumn 1944 in Philippines area), SS2 (sunk 13.9.1944 by US aircraft near Cebu), SS5 (sunk by US aircraft 30.11.1944 near Masbate), SS6 and SS9 (sunk 4.12.1944 by US aircraft off Mindoro), SS1 (sunk 13.1.1945 by US aircraft at Luzon), SS11 (lost in spring 1945 near Shiranoe or Moji), SS20 (ran aground near Shodoshima 20.5.1945, raised 17.9.1945 but lost in storm while under repair, raised again and converted to mercantile vessel in 1946), SS21 (sunk 1.6.1945 by US aircraft near Osaka, raised and used as mercantile), SS17 (sunk by US aircraft 5.6.1945 off Talien), SS13 (August, 1945), SS22 (sunk 8.8.1945 by US carrier aircraft near Aomori). Besides, dates of loss of SS8, SS10, SS14 and SS15 are not known. SS16 was presumably lost in April, 1946 at Yohimi, raised and broken up in 1947.