NAVYPEDIA
Photo
Akitsushima 1942
Ships
| Name | No | Yard No | Builder | Laid down | Launched | Comp | Fate |
| --- | --- | --- | --- | --- | --- | --- | --- |
| 秋津洲 [Akitsushima] |   |   | Kawasaki, Kobe | 29.10.1940 | 25.7.1941 | 29.4.1942 | sunk 24.9.1944 |
| 千早 [Chihaya] |   |   | Kawasaki, Kobe | 1941 | --- | --- | cancelled 1941 |
Technical data
| | |
| --- | --- |
| Displacement standard, t | 4650 |
| Displacement full, t | 5000 |
| Length, m | 109.0 pp 113.0 wl 118.0 oa |
| Breadth, m | 15.8 |
| Draught, m | 5.40 |
| No of shafts | 2 |
| Machinery | 4 diesels |
| Power, h. p. | 8000 |
| Max speed, kts | 19 |
| Fuel, t | diesel oil |
| Endurance, nm(kts) |   |
| Armament | 2 x 2 - 127/40 89-shiki, 2 x 2 - 25/60 96-shiki, 1 DCT, 1 large flying boat (H8K) |
| Complement |   |
Standard scale images

Akitsushima 1942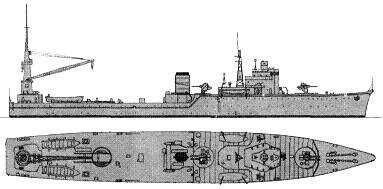 Akitsushima 1943
Graphics
Aircraft facilities
Flying boats were handled by large crane.
Project history
Built under 4th Supplementary Programme and intended for maintenance of large flying boats of type Н8К ("Emily"). For maintenance and repair flying boat was lifted on a quarter-deck by powerful crane.

It was supposed to build three more sister-ships (Nos5031-5033), but works have not been begun.
Modernizations
1944: + 2 x 3 - 25/60 96-shiki
Naval service
Akitsushima was damaged at Truk 17.2.1944 by American carrier aircraft. 24.9.1944 she was sunk at coast of Philippines by American carrier aircraft.


© 2007-2021 - navypedia.org