Photo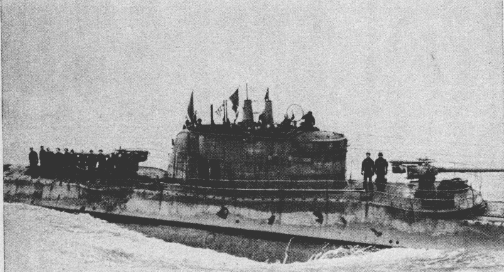 Barbarigo 1942
Ships
| Name | No | Yard No | Builder | Laid down | Launched | Comp | Fate | Modification |
| --- | --- | --- | --- | --- | --- | --- | --- | --- |
| Barbarigo |   |   | CRDA, Monfalcone | 2.1937 | 13.6.1938 | 9.1938 | sunk probably 17-19.6.1943 | Marcello class |
| Dandolo |   |   | CRDA, Monfalcone | 6.1937 | 20.11.1937 | 3.1938 | discarded 3.1947 | Marcello class |
| Emo |   |   | CRDA, Monfalcone | 2.1937 | 26.6.1938 | 10.1938 | scuttled 10.11.1942 | Marcello class |
| Marcello |   |   | CRDA, Monfalcone | 1.1937 | 20.11.1937 | 3.1938 | sunk perhaps 22.2.1941 | Marcello class |
| Mocenigo |   |   | CRDA, Monfalcone | 1.1937 | 20.11.1937 | 8.1938 | sunk 13.5.1943 | Marcello class |
| Morosini |   |   | CRDA, Monfalcone | 3.1937 | 28.7.1938 | 11.1938 | sunk probably 11.8.1942 | Marcello class |
| Nani |   |   | CRDA, Monfalcone | 1.1937 | 16.1.1938 | 9.1938 | sunk probably 7.1.1941 | Marcello class |
| Provana |   |   | CRDA, Monfalcone | 2.1937 | 16.3.1938 | 6.1938 | sunk 17.6.1940 | Marcello class |
| Veniero |   |   | CRDA, Monfalcone | 1.1937 | 12.2.1938 | 6.1938 | sunk probably 7.6.1942 | Marcello class |
| Comandante Cappellini |   |   | OTO, Muggiano | 4.1938 | 14.5.1939 | 9.1939 | captured by Japanese 10.9.1943 (German UIT24) | Comandante Cappellini class |
| Comandante Faà di Bruno |   |   | OTO, Muggiano | 4.1938 | 18.6.1939 | 10.1939 | sunk probably 8.11.1940 | Comandante Cappellini class |
Technical data
Displacement standard, t
955 - 962
Displacement normal, t

1043 / 1290

Length, m

73.0

Breadth, m

7.19

Draught, m

5.10

No of shafts

2

Machinery

2 CRDA diesels / 2 CRDA electric motors

Mocenigo, Veniero, Comandante Cappellini, Comandante Faà di Bruno: 2 Fiat diesels / 2 CRDA electric motors

Power, h. p.

3600 / 1100

Max speed, kts

17.4 / 8

Fuel, t

diesel oil 108

Endurance, nm(kts)
8000(8) / 120(3)
Armament

2 x 1 - 100/47 OTO 1938, 2 x 2 - 13.2/76, 8 - 533 TT (4 bow, 4 stern, 16)

Electronic equipment
hydrophone
Complement

57

Diving depth operational, m
100
Standard scale images

Barbarigo 1940
Graphics
Project history
Development of Glauco. Single-hulled with external bulges. Best Italian large submarines of WWII-era: fast, with good underwater manoeuvrability. A weak place, the general for all contemporary Italian submarines, was an insufficient stability at surfacing/diving.

In 1943 Barbarigo and Comandante Cappellini were converted to transport submarines for routes to Japan.
Modernizations
1943, Barbarigo, Comandante Cappellini: were converted to transports (50 t of ammunition, 80 t of petrol).
Naval service
Provana was sunk 17.6.1940 near Oran by ramming of French sloop La Curieuse. Comandante Faà di Bruno was lost in November, 1940 in Atlantic, probably sunk by British destroyer Havelock. Nani was sunk in North Atlantic 7.1.1941 by British corvette Anemone. Marcello was sunk in North Atlantic by escort ships 22.2.1942. Veniero was sunk in Mediterranean 7.6.1942, possibly, by aircraft. Morosini was lost in August-September, 1942 in bay of Biscay. Emo was sunk N of Alger by British armed trawler Lord Nuffield 10.11.1942. Mocenigo was sunk 15.5.1943 at Cagliari by American bombers. Barbarigo was sunk 16 or 19.6.1943 in bay of Biscay by Allied aircraft. Comandante Cappellini was captured 10.9.1943 by Japan at Sabang, transferred to Germany, renamed UIT24, 10.5.1945 she was re-captured by Japan, commissioned as I503, surrendered at Kobe 2.9.1945 and broken up in 1946.

Barbarigo 1942