NAVYPEDIA Support the project with paypal
Photo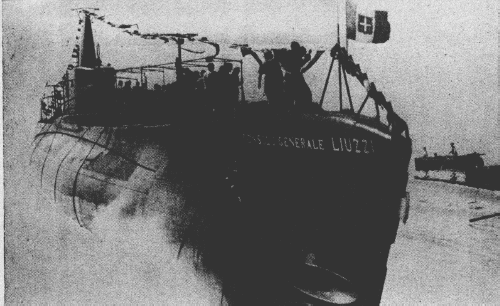 Console Generale Liuzzi 17.9.1939  
Ships
| Name | No | Yard No | Builder | Laid down | Launched | Comp | Fate |
| --- | --- | --- | --- | --- | --- | --- | --- |
| Alpino Bagnolini |   |   | Tosi, Taranto | 12.1938 | 28.10.1939 | 12.1939 | captured by Germany 10.9.1943 (UIT22) |
| Reginaldo Giuliani |   |   | Tosi, Taranto | 3.1939 | 3.12.1939 | 2.1940 | captured by Japan 10.9.1943 (German UIT23) |
| Console Generale Liuzzi |   |   | Tosi, Taranto | 11.1938 | 17.9.1939 | 11.1939 | scuttled 27.6.1940 |
| Capitano Tarantini |   |   | Tosi, Taranto | 4.1939 | 7.1.1940 | 3.1940 | sunk 15.12.1940 |
Technical data
| | |
| --- | --- |
| Displacement standard, t | 1031 |
| Displacement normal, t | 1148 / 1460 |
| Length, m | 76.1 |
| Breadth, m | 6.98 |
| Draught, m | 4.55 |
| No of shafts | 2 |
| Machinery | 2 Tosi diesels / 2 Ansaldo electric motors |
| Power, h. p. | 2500 / 1500 |
| Max speed, kts | 18 / 8 |
| Fuel, t | diesel oil 135 |
| Endurance, nm(kts) | 11300(8) / 108(3) |
| Armament | 2 x 1 - 100/47 OTO 1938, 2 x 2 - 13.2/76, 8 - 533 TT (4 bow, 4 stern, 12) |
| Electronic equipment | hydrophone |
| Complement | 58 |
| Diving depth operational, m | 90 |
Standard scale images
Console Generale Liuzzi 1940
Graphics
Project history
Increased version of Brin class. Partially double-hulled. In comparison with predecessors, they had better stability and at the expense of new bow form higher speed. Gun from CT was moved on a deck fwd from CT.

Bagnolini and Guilliani in 1943 were converted to transports for routes to Japan.
Modernizations
1943, Alpino Bagnolini, Reginaldo Giuliani: were converted to transports (ammunition and petrol).
Naval service
Capitano Tarantini was sunk in bay of Biscay 15.12.1940 by British submarine Thunderbolt. Console Generate Liuzzi was sunk 27.6.1940 S of Crete by British destroyers Dainty, Ilex and Defender. Reginaldo Guilliani was captured by Japanese at Singapore 10.9.1943, transferred to Germany and renamed UIT23. She was sunk 14.2.1944 in strait of Malacca by British submarine Tally Ho. Alpino Bagnolini 10.9.1943 was captured by German troops at Bordeaux, renamed UIT22 and sunk 11.3.1944 S of the Cape Good Hope by SAAF Catalina flying boat.
© 2007-2022 - navypedia.org