NAVYPEDIA Support the project with paypal
Photo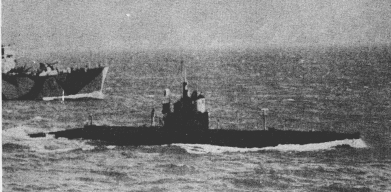 Italian H class submarine 1947
Ships
| Name | No | Yard No | Builder | Laid down | Launched | Comp | Fate |
| --- | --- | --- | --- | --- | --- | --- | --- |
| H1 |   |   | Canadian Vickers, Montreal, Canada | 5.1916 | 16.10.1916 | 12.1916 | stricken 3.1947 |
| H2 |   |   | Canadian Vickers, Montreal, Canada | 5.1916 | 19.10.1916 | 12.1916 | stricken 3.1947 |
| H3 |   |   | Canadian Vickers, Montreal, Canada | 8.1916 | 26.4.1917 | 5.1917 | stricken 4.1937 |
| H4 |   |   | Canadian Vickers, Montreal, Canada | 8.1916 | 17.4.1917 | 5.1917 | stricken 3.1947 |
| H5 |   |   | Canadian Vickers, Montreal, Canada | 8.1916 | 25.4.1917 | 5.1917 | sunk 16.4.1918 |
| H6 |   |   | Canadian Vickers, Montreal, Canada | 11.1916 | 23.4.1917 | 7.1917 | captured by Germany 14.9.1943 |
| H7 |   |   | Canadian Vickers, Montreal, Canada | 11.1916 | 24.5.1917 | 5.1917 | stricken 10.1930 |
| H8 |   |   | Canadian Vickers, Montreal, Canada | 11.1916 | 24.5.1917 | 6.1918 | sunk 5.6.1943 |
Technical data
| | |
| --- | --- |
| Displacement standard, t | 343 |
| Displacement normal, t | 364 / 475 |
| Length, m | 45.8 |
| Breadth, m | 4.69 |
| Draught, m | 3.76 |
| No of shafts | 2 |
| Machinery | 2 NLSE diesels / 2 Dynamic Electric electric motors |
| Power, h. p. | 480 / 620 |
| Max speed, kts | 12 / 11 |
| Fuel, t | diesel oil 16 |
| Endurance, nm(kts) | 2640(11) / 110(5) |
| Armament | 4 - 450 TT (bow, 6) |
| Complement | 22 |
| Diving depth operational, m | 50 |
Standard scale images

H1 1943

H2 1930
Graphics
Project history
The well-known Holland boats, built in the USA and assembled in Canada in 1916-1917. One of the most successful design of time. Single-hulled.
Modernizations
1920, all survived: + 1 x 1 - 76/30 Armstrong 1914.

1930s, all survived: + hydrophone (presumably)
Naval service
H5 was sunk 16.4.1918 by mistake in Southern Adriatic by British sister-ship H1 (temporarily called HB1, not to confuse British and Italian submarines). H8 was sunk at La Spezia 5.6.1943 by Allied aircraft. H6 was captured by German troops in September, 1943 and scuttled by them.
© 2007-2023 - navypedia.org