Photo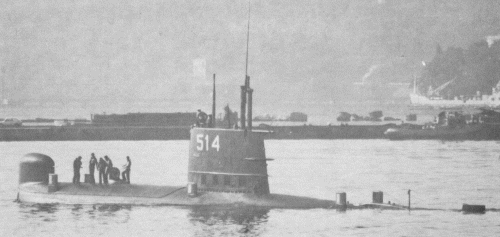 Lazzaro Mocenigo 1978  
Ships
| Name | No | Yard No | Builder | Laid down | Launched | Comm | Fate |
| --- | --- | --- | --- | --- | --- | --- | --- |
| Attilio Bagnolini | S505 |   | Italcantieri, Monfalcone | 15.4.1965 | 26.8.1967 | 16.6.1968 | discarded 7.1991 |
| Enrico Toti | S506 |   | Italcantieri, Monfalcone | 15.4.1965 | 12.3.1967 | 22.1.1968 | discarded 9.1997 |
| Enrico Dandolo | S513 |   | Italcantieri, Monfalcone | 10.3.1967 | 16.12.1967 | 25.9.1968 | discarded 9.1996 |
| Lazzaro Mocenigo | S514 |   | Italcantieri, Monfalcone | 12.6.1967 | 20.4.1968 | 11.1.1969 | discarded 10.1993 |
Technical data
| | |
| --- | --- |
| Displacement standard, t | 460 |
| Displacement normal, t | 535 / 591 |
| Length, m | 46.2 |
| Breadth, m | 4.70 |
| Draught, m | 4.00 |
| No of shafts | 1 |
| Machinery | 2 Fiat/Mercedes-Benz 820 N/1 diesel-generators, 1 electric motor |
| Power, h. p. | 2200 |
| Max speed, kts | 9.7 / 14 |
| Fuel, t | diesel oil |
| Endurance, nm(kts) | 3000(5) / |
| Armament | 4 - 533 TT (bow, 8) |
| Electronic equipment | RM-20/SMG (BPS-704) radar, IPD-64 sonar, ECM suite, IPD-64 CCS |
| Complement | 26 |
| Diving depth operational, m | 180 |
Standard scale images

Enrico Toti 1975
Graphics
Project history
The small Totis were the first Italian-designed postwar submarines. Apparently the design began with a US-sponsored NATO project for a very small submarine, possibly inspired by US work on small ASW submarines about 1955 (the nuclear Tullibee was bought instead). The German Type 205/206 may also have come out of this programme. The first pair were included in the 1956 programme, and apparently the design changed considerably between then and 1964, when they were formally re-ordered. As described in 1958, they were rather larger: 800/1000t, with 2-shaft diesels-electric powerplants, 1400hp, 13.5/8kts, and four torpedo tubes. By 1960, the Italians had decided on single-shaft powerplant for higher underwater speed: 850t std, 1020t surfaced and 1230t submerged; 65.4x5.8x5.2m, 2 diesels, 1 electric motor, 2200hp, 13.5kts, with four torpedo tubes (eight torpedoes). At this time the wartime submarine Pietro Calvi was being rebuilt with a single screw for high underwater performance. Then the design was cut drastically (1964), to 380/480t, 48.77x4.65x4.65m, with the same 2200hp powerplant (for 9.13kts), and with only three torpedo tubes. Another account of this small design gives power as 1360bhp and motor power (single motor, single screw) as 850hp, for a speed of 10kts surfaced and 14kts submerged. The final design was slightly smaller but presumably with a fuller hull form, since it accommodated a 2200hp powerplant. Speed for one hour was 15kts.

While these boats were being designed, the Italian Navy planned to buy one or more nuclear submarines for deep-ocean work. After that project was dropped, a longer-range diesel submarine (Sauro) was substituted. It would seem to follow that the cuts in size accompanied a decision to build a two-tier (inshore-deep water) force.
Modernizations
1972, all: + MD-64 sonar
Naval service
No significant events.