NAVYPEDIA Support the project with paypal
Photo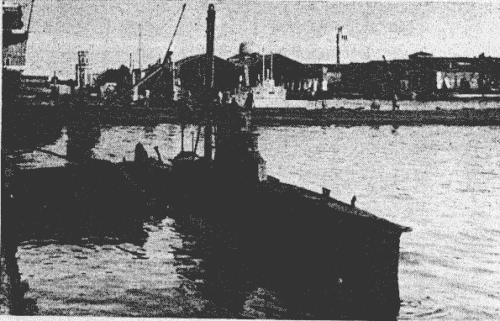 Delfino 1910s  
Ships
| Name | No | Yard No | Builder | Laid down | Launched | Comp | Fate |
| --- | --- | --- | --- | --- | --- | --- | --- |
| Delfino |   |   | R. Arsenale di La Spezia | Autumn 1889 | 1890 | 4/1895 | discarded 9.1918 |
Technical data
| | | |
| --- | --- | --- |
| Data variant | as completed | as modified 1904 |
| Displacement standard, t |   |   |
| Displacement normal, t | 95 / 107 | 102 / 113 |
| Length, m | 24.0 | 24.7 |
| Breadth, m | 2.89 | 2.89 |
| Draught, m | 2.56 | 2.79 |
| No of shafts | 1 | 1 |
| Machinery | 1 Savigliano electric motor | 1 FIAT petrol engine / 1 Savigliano electric motor |
| Power, h. p. | 65 | 130 / 65 |
| Max speed, kts | 6 / 5 | 10 / 5 |
| Fuel, t | battery only | petrol |
| Endurance, nm(kts) | 24(2) / 24(2) | 165(6) / 24(2) |
| Armament | 2 - 350 TT (bow) | 1 - 450 TT (bow) |
| Complement | 8 | 11 |
| Diving depth operational, m | 30 | 30 |
Standard scale images

Delfino 1904
Graphics
Project history
First submarine boat of the Italian Navy, obviously experimental. Designed by Eng Inspector Giacinto Pullino, she was known also as Delfino-Pullino or Pullino for short. The dates of her construction are not certain. In official sources she was built between 1892 and 1895, but others say she was laid down in autumn 1889, launched in 1890 (or 1892) and completed 1892. First sea trials may have been made on 29 April 1892 and she may have been commissioned on 1 April 1895, but official sources say 1896 (no day). This uncertainty may be explained by Delfino's experimental construction. To the original electric motor (with 3 propellers, two of which had vertical axis, for diving and surfacing) a petrol motor was added during the rebuilding of 1902-04, for surface navigation; her turret was enlarged and 1-450mm TT replaced the 350mm TT.
Modernizations
(1902-1904): Delfino was modified as given in the table:
Naval service
Discarded after having taken part in World War One.
© 2007-2022 - navypedia.org