Photo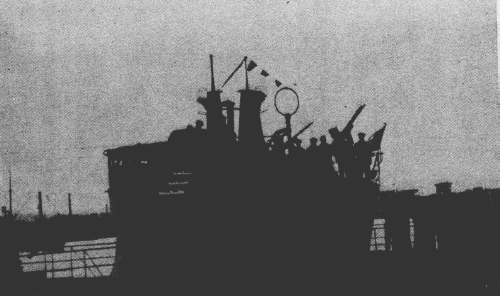 Giuseppe Finzi 1942  
Ships
| Name | No | Yard No | Builder | Laid down | Launched | Comp | Fate |
| --- | --- | --- | --- | --- | --- | --- | --- |
| Pietro Calvi |   |   | OTO, Muggiano | 7.1932 | 31.3.1935 | 10.1935 | scuttled 15.7.1942 |
| Giuseppe Finzi |   |   | OTO, Muggiano | 8.1932 | 29.6.1935 | 1.1936 | captured by Germany 9.9.1943 (UIT21) |
| Enrico Tazzoli |   |   | OTO, Muggiano | 9.1932 | 14.10.1935 | 4.1936 | lost probably 16.5.1943 |
Technical data
Displacement standard, t
1331
Displacement normal, t

1525 / 2028

Length, m

84.3

Breadth, m

7.70

Draught, m

5.20

No of shafts

2

Machinery

2 Fiat diesels / 2 San Giorgio electric motors

Power, h. p.

4400 / 1800

Max speed, kts

16.8 / 7.4

Fuel, t

diesel oil 249

Endurance, nm(kts)
13400(8) / 80(4)
Armament

Pietro Calvi, Giuseppe Finzi: 2 x 1 - 120/45 OTO 1931, 2 x 2 - 13.2/76, 8 - 533 TT (4 bow, 4 stern, 16)

Enrico Tazzoli: 2 x 1 - 120/45 OTO 1931, 2 x 2 - 13.2/76, 8 - 533 TT (4 bow, 4 stern, 12), 14 mines

Electronic equipment
hydrophone
Complement

77

Diving depth operational, m
100
Standard scale images

Pietro Calvi 1940

Enrico Tazzoli 1942
Graphics
Project history
Submarine cruisers for service in Red sea and Indian ocean. Improved Balilla. Double-hulled. An auxiliary diesel was not installed on these boats, and high endurance has been received for the account of increase of fuel tanks volume and installation of more efficient main diesels with some lower power. To raise a stability, a hull form was changed, that, in turn, has led to some raise of speed, in comparison with predecessors, despite smaller engine power. Abandoning from an auxiliary diesel has allowed to strengthen armament notably: number of 120mm guns was increased to two, and TTs to eight.

In 1943 Enrico Tazzoli and Giuseppe Finci were converted to transport submarines for routes to Japan.
Modernizations
1943, Enrico Tazzoli: was converted to transport (ammunition and petrol) (Giuseppe Finzi was converted after 8.9.1943 by Germans).
Naval service
Pietro Calvi was sunk 15.7.1942 S of the Azores by British sloop Lulworth. Enrico Tazzoli was lost in May, 1943 in bay of Biscay, the reason is not known (probably sunk 16.5.1943 by Allied aircraft). Giuseppe Finci was captured by German troops 9.9.1943, renamed UIT21 and scuttled at Bordeaux 25.8.1944.