NAVYPEDIA Support the project with paypal
Photo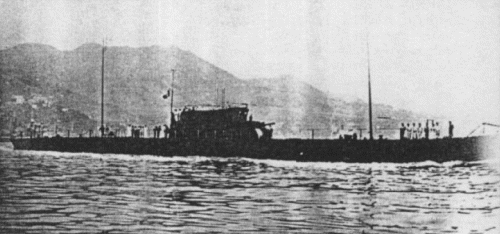 Domenico Millelire 1928
Ships
| Name | No | Yard No | Builder | Laid down | Launched | Comp | Fate |
| --- | --- | --- | --- | --- | --- | --- | --- |
| Balilla |   |   | OTO, Muggiano | 1.1925 | 20.2.1927 | 7.1928 | hulk 4.1941 |
| Domenico Millelire |   |   | OTO, Muggiano | 1.1925 | 19.9.1927 | 8.1928 | hulk 4.1941 |
| Antonio Sciesa |   |   | OTO, Muggiano | 10.1925 | 12.8.1928 | 4.1929 | scuttled 12.11.1942 |
| Enrico Toti |   |   | OTO, Muggiano | 1.1925 | 14.4.1928 | 9.1928 | laid up 4.1943 |
Technical data
Displacement standard, t
1368
Displacement normal, t

1427 / 1874

Length, m

86.5

Breadth, m

7.80

Draught, m

4.70

No of shafts

2

Machinery

2 Fiat diesels + 1 auxiliary Fiat diesel / 2 Savigliano electric motors

Power, h. p.

4900 + 425 / 2200

Max speed, kts

16 / 7

Fuel, t

diesel oil 140

Endurance, nm(kts)
13000(7) / 110(3)
Armament

1 x 1 - 120/27 OTO 1924, 2 x 1 - 13.2/76, 6 - 533 TT (4 bow, 2 stern, 16), 4 mines

Antonio Sciesa: 1 x 1 - 120/27 OTO 1924, 2 x 1 - 13.2/76, 6 - 533 TT (4 bow, 2 stern, 16)

Electronic equipment
presumably hydrophone
Complement

77

Diving depth operational, m
90
Graphics
Project history
Cruiser submarines for service in Red sea and Indian ocean. Design was developed by builder on the basis of ex-German submarine U120, received by Italy after First World War. Double-hulled. For endurance increase auxiliary 425hp diesel was entered into machinery structure for battery recharging and cruising speed. Originally the gun was placed on CT. In 1934 for raise of stability the gun was moved from CT to a deck. To lacks of this class it is possible to refer low stability and inability to reach a designed speed (17.5/8.9kts).
Modernizations
1934, all: - 1 x 1 - 120/27, 2 x 1 - 13.2/76; + 1 x 1 - 120/45 OTO 1931, 2 x 2 - 13.2/76
Naval service
Too large for service in Mediterranean sea Balilla and Domenico Millelire in April, 1941 were disarmed and used as oil hulks. Enrico Toti and Antonio Sciesa since 1942 served as transport submarines for supply of troops in Africa. Antonio Sciesa was damaged 6.9.1942 at Tobruk by American aircraft and scuttled by crew 12.11.1942. Enrico Toti was disarmed 1.4.1943.
© 2007-2022 - navypedia.org