NAVYPEDIA Support the project with paypal
Photo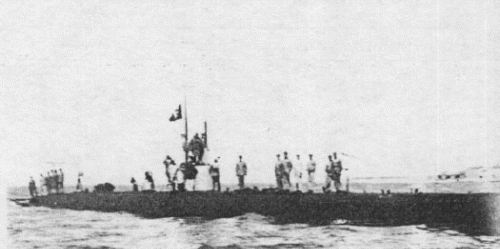 Argonauta 1916    
Ships
| Name | No | Yard No | Builder | Laid down | Launched | Comp | Fate |
| --- | --- | --- | --- | --- | --- | --- | --- |
| Argonauta (ex-Святой Георгий [Svyatoy Georgiy]) |   |   | Fiat - San Giorgio, La Spezia | 3.1913 | 5.7.1914 | 2.1915 | stricken 3.1928 |
Technical data
| | |
| --- | --- |
| Displacement standard, t |   |
| Displacement normal, t | 255 / 306 |
| Length, m | 45.2 |
| Breadth, m | 4.20 |
| Draught, m | 3.05 |
| No of shafts | 2 |
| Machinery | 2 Fiat diesels / 2 Savigliano electric motors |
| Power, h. p. | 700 / 450 |
| Max speed, kts | 13.5 / 8.8 |
| Fuel, t | diesel oil |
| Endurance, nm(kts) | 1600(9) / 120(3) |
| Armament | 2 - 450 TT (bow, 4) |
| Complement | 24 |
| Diving depth operational, m | 40 |
Standard scale images

Argonauta 1915
Graphics
Project history
Ordered by Russia as Svyatoy Georgiy in 1912. Design was developed on the basis of submarine Medusa. After the beginning of WWI Italy has redeemed her and in February, 1915 boat was commissioned by Regia Marina as Argonauta. (Later other Svyatoy Georgiy was built for Russian Navy). Double-hulled.
Modernizations
1915-1917: + 1 x 1 - 76/30 A1914
Naval service
No significant events.
© 2007-2022 - navypedia.org