Photo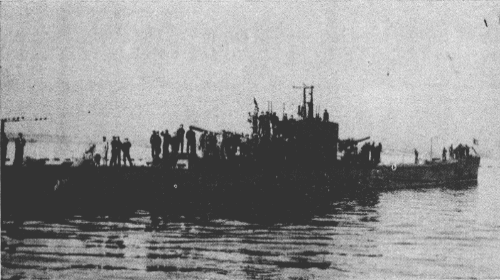 Pietro Micca
Ships
| Name | No | Yard No | Builder | Laid down | Launched | Comp | Fate |
| --- | --- | --- | --- | --- | --- | --- | --- |
| Pietro Micca |   |   | Tosi, Taranto | 10.1931 | 31.3.1935 | 10.1935 | sunk 29.7.1943 |
Technical data
| | |
| --- | --- |
| Endurance, nm(kts) | 12000(8) / 80(4) |
| Displacement standard, t | 1371 |
| Displacement normal, t | 1545 / 1940 |
| Length, m | 90.3 |
| Breadth, m | 7.70 |
| Draught, m | 5.30 |
| No of shafts | 2 |
| Machinery | 2 Tosi diesels / 2 Marelli electric motors |
| Power, h. p. | 3000 / 1500 |
| Max speed, kts | 15.5 / 8.5 |
| Fuel, t | diesel oil 67 (norm.) |
| Armament | 2 x 1 - 120/45 OTO 1931, 2 x 2 - 13.2/76, 6 - 533 TT (4 bow, 2 stern, 10), 20 mines |
| Electronic equipment | hydrophone |
| Complement | 72 |
| Diving depth operational, m | 90 |
Standard scale images

Pietro Micca 1940
Graphics
Project history
Cruiser submarine minelayer. The design was developed by builder. Partially double-hulled. Mines were stored in vertical trunks, in lower part of a pressure hull amidships. Minelaying was realised as on German submarines, downwards. Though thus there were no such problems with trimming as at usage of the horizontal tubes, the similar scheme had two significant lacks. First, minelaying could be realised only if between submarine keel and sea bottom there was sufficient clearance for mine withdrawal; and a backlash blasting on a mine laid "under herself", secondly, was possible.

As a whole these submarine was appeared successful (except of a doubtful method of minelaying), possessed good seaworthiness and quite good manoeuvrability for her dimensions.
Modernizations
late 1940: submarine was converted to transport (ammunition and petrol).
Naval service
Too large for service in Mediterranean sea, she already in the late 1940 has been reoriented on transport service between Italy and Africa. In 1941 Pietro Micca was hard damaged by a torpedo, but repaired. Pietro Micca was sunk 29.7.1943 in the Otranto Straits by British submarine Trooper.