Photo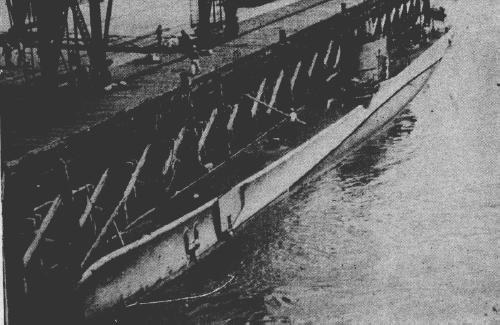 Guglielmo Marconi 1941  
Ships
| Name | No | Yard No | Builder | Laid down | Launched | Comp | Fate |
| --- | --- | --- | --- | --- | --- | --- | --- |
| Maggiore Baracca |   |   | OTO, Muggiano | 3.1939 | 21.4.1940 | 7.1940 | sunk 8.9.1941 |
| Michele Bianchi |   |   | OTO, Muggiano | 2.1939 | 3.12.1939 | 4.1940 | sunk 7.8.1941 |
| Leonardo da Vinci |   |   | CRDA, Monfalcone | 9.1938 | 16.9.1939 | 4.1940 | sunk 23.5.1943 |
| Alessandro Malaspina |   |   | OTO, Muggiano | 3.1939 | 18.2.1940 | 6.1940 | sunk 21.9.1941 |
| Guglielmo Marconi |   |   | CRDA, Monfalcone | 9.1938 | 30.7.1939 | 2.1940 | sunk perhaps 11.1941 |
| Luigi Torelli |   |   | OTO, Muggiano | 2.1939 | 6.1.1940 | 5.1940 | captured by Japan 10.9.1943 (German UIT25) |
Technical data
| | |
| --- | --- |
| Displacement standard, t | 1036 |
| Displacement normal, t | 1175 / 1465 |
| Length, m | 76.5 |
| Breadth, m | 6.81 |
| Draught, m | 4.72 |
| No of shafts | 2 |
| Machinery | 2 CRDA diesels / 2 Marelli electric motors |
| Power, h. p. | 3600 / 1500 |
| Max speed, kts | 17.8 / 8.2 |
| Fuel, t | diesel oil 118 |
| Endurance, nm(kts) | 10500(8) / 110(3) |
| Armament | 1 x 1 - 100/47 OTO 1938, 2 x 2 - 13.2/76, 8 - 533 TT (4 bow, 4 stern, 12) |
| Electronic equipment | hydrophone |
| Complement | 57 |
| Diving depth operational, m | 90 |
Standard scale images

Guglielmo Marconi 1940

Leonardo da Vinci 1942
Graphics
Project history
Development of Marcello class. Single-hulled, with external bulges. For raise of submerged speed the hull was made narrower and longer, than at Marcello, with the same purpose more powerful electric motors were installed, however a speed increment was appeared insignificant. The fuel stowage was besides, a little increased. In order to avoid decrease of stability because of smaller hull beam the number of 100mm/47 guns was shrunk to one and the sizes of CT were moderated.

In 1943 Luigi Torelli was converted to transport for routes to Japan.
Modernizations
1942, Leonardo da Vinci: - 1 x 1 - 100/47; + 1 CA midget submarine (tests only)

1943, Luigi Torelli: was converted to transport.
Naval service
Michele Bianchi was sunk 7.8.1941 W of Gibraltar by British submarine Severn. Maggiore Baracca was sunk 8.9.1941 by ramming of British escort destroyer Croome NE of Azores. Alessandro Malaspina was lost in September, 1941 in Atlantic, probably sunk by British destroyer Vimy. Guiglielmo Marconi was lost in October, 1941 in Atlantic. Leonardo da Vinci was sunk 23.5.1943 NE of Azores by British destroyer Active and frigate Ness. Luigi Torelli was captured by Japanese 10.9.1943 at Singapore, transferred to Germany and renamed UIT25. Subsequently she was transferred to Japanese, receiving name I504, and scuttled after war by Americans.