Photo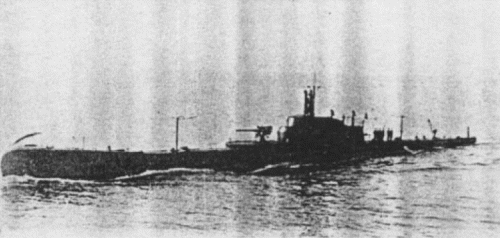 Ettore Fieramosca
Ships
| Name | No | Yard No | Builder | Laid down | Launched | Comp | Fate |
| --- | --- | --- | --- | --- | --- | --- | --- |
| Ettore Fieramosca |   |   | Tosi, Taranto | 7.1926 | 15.4.1929 | 4.1930 | laid up 4.1941, BU 1946 |
Technical data
| | |
| --- | --- |
| Displacement standard, t | 1400 |
| Displacement normal, t | 1530 / 2094 |
| Length, m | 84.0 |
| Breadth, m | 8.30 |
| Draught, m | 5.11 |
| No of shafts | 2 |
| Machinery | 2 Tosi diesels / 2 Marelli electric motors |
| Power, h. p. | 5200 / 2300 |
| Max speed, kts | 15 / 8 |
| Fuel, t | diesel oil 150 |
| Endurance, nm(kts) | 5000(9) / 90(3) |
| Armament | 1 x 1 - 120/27 OTO 1924, 2 x 2 - 13.2/76, 8 - 533 TT (4 bow, 4 stern, 14), 1 seaplane (P.8, never really carried) |
| Electronic equipment | hydrophone |
| Complement | 78 |
| Diving depth operational, m | 90 |
Standard scale images

Ettore Fieramosca 1940
Graphics
Project history
Submarine cruiser for service in Red sea and Indian ocean. Design was developed by builder. Single-hulled, with external bulges. According to the design, Ettore Fieramosca should carry a seaplane in watertight hangar. For some reasons aircraft have not created, and in 1931 hangar because of which the diving time has appeared unreasonably long, was liquidated. After that submerged displacement was moderated from 2094 to 1934t and the diving time was a little shrank, though continued to be considered as the excessive.

Ettore Fieramosca, as well as Balilla class, could not reach a designed speed (19/10kts), but, unlike the later, at expense of application of the bulges had better stability.
Modernizations
1931: - 1 x 1 - 120/27, hangar; + 1 x 1 - 120/45 OTO 1931
Naval service
Too large for service in Mediterranean sea, after battery explosion in the mid-1940 she as laid up to reserve and disarmed in April, 1941 and broken up in 1946.