Photo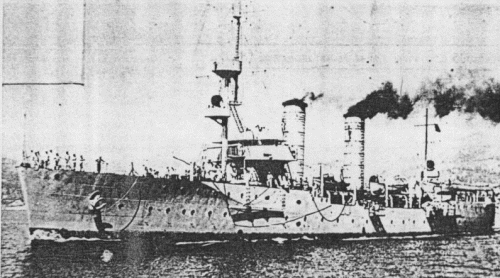 Dalmacija
Ships
| Name | No | Yard No | Builder | Laid down | Launched | Comp | Fate |
| --- | --- | --- | --- | --- | --- | --- | --- |
| Cattaro (ex-Далмација [Dalmacija], ex-Niobe) |   |   | A G Weser, Bremen, Germany | 30.8.1898 | 18.7.1899 | 25.6.1900 // 17.4.1941 | captured by Germany 11.9.1943 (Niobe) |
Technical data
| | |
| --- | --- |
| Displacement standard, t | 2360 |
| Displacement full, t | 2953 |
| Length, m | 104.4 wl 105.0 oa |
| Breadth, m | 12.2 |
| Draught, m | 5.31 |
| No of shafts | 2 |
| Machinery | 2 VTE, 8 Thornycroft boilers |
| Power, h. p. | 8000 |
| Max speed, kts | 16 |
| Fuel, t | coal 625 |
| Endurance, nm(kts) | 4000(11) |
| Armour, mm | steel / Krupp steel - deck: 25 - 20, slopes: 50, CT: 80 |
| Armament | 6 x 1 - 83/53 Škoda M.27, 6 x 1 - 20/70 Scotti-Isotta Fraschini 1939 |
| Complement | 329 |
Standard scale images

Cattaro 1941
Graphics
Project history
Ex-German Gazelle-class small cruiser was purchased by Yugoslavia 24.6.1925 and rebuilt at Deutsche Werke in Kiel in 1925-1926 (fore part was rebuilt, cruiser received new stem, forecastle deck had new form, superstructures and masts were also rebuilt), ship was commissioned again 3.9.1926. When Yugoslavia surrendered, ship was captured at Kotor and commissioned by Regia Marina as gunboat.
Ship protection
25mm protective deck with 50mm slopes protected machinery, outside machine spaces 20mm deck had turtleback form. Engines had 80mm glacises. CT had 80mm sides and 20mm roof.
Modernizations
None.
Naval service
Cattaro 11.9.1943 was captured at Pola by German troops, renamed Niobe 6.12.1943, was wrecked off Silba 19.12.1943, finally sunk there by British / Yugoslavian MTB276 and MTB298, salvaged in 1947 and broken up in 1949.