NAVYPEDIA Support the project with paypal
Photo

Rimini 2008
Ships
| Name | No | Yard No | Builder | Laid down | Launched | Comp | Fate |
| --- | --- | --- | --- | --- | --- | --- | --- |
| Gaeta | M5554 |   | Intermarine, Sarzana | 2.9.1988 | 28.7.1990 | 3.7.1992 | in service (2019) |
| Termoli | M5555 |   | Intermarine, Sarzana | 13.3.1989 | 15.12.1990 | 13.11.1992 | in service (2019) |
| Alghero | M5556 |   | Intermarine, Sarzana | 18.9.1989 | 11.5.1991 | 31.3.1993 | in service (2019) |
| Numana | M5557 |   | Intermarine, Sarzana | 5.3.1990 | 26.10.1991 | 30.7.1993 | in service (2019) |
| Crotone | M5558 |   | Intermarine, Sarzana | 9/1990 | 11.4.1992 | 2.2.1994 | in service (2019) |
| Viareggio | M5559 |   | Intermarine, Sarzana | 3/1991 | 3.10.1992 | 1.7.1994 | in service (2019) |
| Chioggia | M5560 |   | Intermarine, Sarzana | 11/1992 | 9.4.1994 | 19.5.1996 | in service (2019) |
| Rimini | M5561 |   | Intermarine, Sarzana | 6/1993 | 17.9.1994 | 26.11.1996 | in service (2019) |
Technical data
| | |
| --- | --- |
| Displacement standard, t | 592 |
| Displacement full, t | 696 |
| Length, m | 48.1 pp 52.5 oa |
| Breadth, m | 9.87 |
| Draught, m | 2.75 |
| No of shafts | 1 |
| Machinery | 1 GMT BL230-BN diesel |
| Power, h. p. | 1985 |
| Max speed, kts | 15 |
| Fuel, t | diesel oil 49 |
| Endurance, nm(kts) | 2500(12) |
| Armament | 1 x 1 - 20/70 Mk 4, 2 x 1 - 7.6/90, MIN Mk 2 SSV, Pluto+ SSV, Mk 4 mechanical minesweeping gear, decompression chamber |
| Electronic equipment | SPN-753, SPN-754 radars, SQQ-14T sonar |
| Complement | 51 |
Standard scale images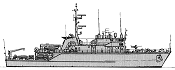 Gaeta 2000
Graphics
Project history
Improved and lengthened Lerici class, with a new thruster unit for precious positioning and the Italian-modified version of the US SQQ-14 sonar. The last two units were cancelled in August 1991 but reinstated in 1993 to keep the Intermarine Yard going until the next series of minehunters could be ordered.
Modernizations
2010-2018, all: - MIN Mk 2 USV, SQQ-14T sonar; + Pluto-Gigas USV, provision for Plutino-Miki SSV, type 2093 sonar, Datamat 712(v)3 CCS
Naval service
No significant events.
© 2007-2022 - navypedia.org