NAVYPEDIA Support the project with paypal
Photo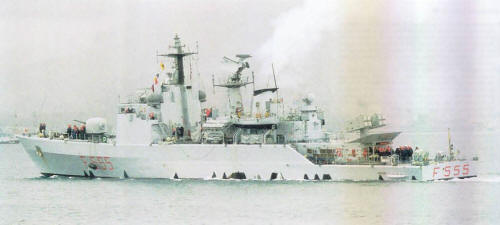 Driade 2002
Ships
| Name | No | Yard No | Builder | Laid down | Launched | Comp | Fate |
| --- | --- | --- | --- | --- | --- | --- | --- |
| Minerva | F551 |   | Fincantieri, Riva Trigoso | 11.3.1985 | 25.3.1986 | 10.6.1987 | stricken 9.2012, to Bangladesh (সায়েদ নজরুল [Syed Nazrul]) |
| Urania | F552 |   | Fincantieri, Riva Trigoso | 11.3.1985 | 21.6.1986 | 10.6.1987 | stricken 3.2016, to Bangladesh (মানসুর আলী [Mansoor Ali]) |
| Danaide | F553 |   | Fincantieri, Muggiano | 26.5.1985 | 18.10.1986 | 13.2.1988 | stricken 3.2016, to Bangladesh (কামরুজ্জামান [Kamruzzaman]) |
| Sfinge | F554 |   | Fincantieri, Muggiano | 26.5.1985 | 16.5.1987 | 13.2.1988 | stricken 5.2017 |
| Driade | F555 |   | Fincantieri, Riva Trigoso | 18.3.1988 | 12.3.1989 | 7.9.1991 | stricken 7.2018 |
| Chimera | F556 |   | Fincantieri, Muggiano | 21.12.1988 | 4.7.1990 | 15.1.1991 | in service (2019) |
| Fenice | F557 |   | Fincantieri, Riva Trigoso | 6.9.1988 | 4.12.1990 | 11.9.1990 | stricken 5.2017 |
| Sibilla | F558 |   | Fincantieri, Riva Trigoso | 16.10.1989 | 15.2.1990 | 16.5.1991 | stricken 9.2012, to Bangladesh (তাজউদ্দীন [Tajuddin]) |
Technical data
| | |
| --- | --- |
| Displacement standard, t | 1030 |
| Displacement full, t | 1285 |
| Length, m | 80.0 pp 86.6 oa |
| Breadth, m | 10.5 |
| Draught, m | 3.16 hull 4.80 max |
| No of shafts | 2 |
| Machinery | 2 GMT B230-20DVM diesels |
| Power, h. p. | 11000 |
| Max speed, kts | 25 |
| Fuel, t | diesel oil |
| Endurance, nm(kts) | 3500(18) |
| Armament | 1 x 8 Albatros SAM (8 Aspide), 1 x 1 - 76/62 OTO-Melara Compact SR, 2 x 1 - 20/70 Mk 4, 2 x 3 - 324 ILAS-3 TT |
| Electronic equipment | SPN-728, SPS-774, SPG-76 radars, Pegaso NA-16 e/o director, DE-1167 sonar, SLQ-747 ECM suite, 2x type 207E Super Barricade decoy RL, SLQ-25 Nixie torpedo decoy, SADOC-2 CCS |
| Complement | 121 |
Standard scale images

Minerva 2000

Urania 2005
Graphics
Project history
These corvettes are designed for later upgrades. The first four were authorized in 1982 and ordered in 1983; the next four were authorized in 1985 and ordered in 1987. Their peacetime roles are surveillance, fishery protection, training and search-and-rescue; in effect they are more sophisticated equivalents to the contemporary Cassiopeia class. Space and weight have been reserved for Aspide reloads, for four Otomat SSM and for a VDS (the Otomat launchers can fire Milas ASW missiles).
Modernizations
2002, Urania, Danaide, Sfinge: - 1 x 8 Albatros SAM, 2 x 3 - 324 TT

early 2000s, Sfinge, Chimera, Fenice: - 2 x 1 - 20/70; + 2 x 1 - 25/87 KBA25/80
Naval service
No significant events.
© 2007-2022 - navypedia.org