Photo

Sagittario 1980
Ships
| Name | No | Yard No | Builder | Laid down | Launched | Comm | Fate |
| --- | --- | --- | --- | --- | --- | --- | --- |
| Lupo | F564 |   | CNR, Riva Trigoso | 8.10.1974 | 29.7.1976 | 20.9.1977 | stricken 2003, to Peru 11.2004 (Palacios) |
| Sagittario | F565 |   | CNR, Riva Trigoso | 4.2.1976 | 22.6.1977 | 18.11.1978 | stricken 10.2005, to Peru 1.2006 (Quiñónes) |
| Perseo | F566 |   | CNR, Riva Trigoso | 28.2.1977 | 8.7.1978 | 1.3.1980 | stricken 10.2005, to Peru 1.2006 (Bolognesi) |
| Orsa | F567 |   | CNR, Muggiano | 1.8.1977 | 1.3.1979 | 1.3.1980 | stricken 2002, to Peru 11.2004 (Aguirre) |
Technical data
| | |
| --- | --- |
| Displacement standard, t | 2208 |
| Displacement full, t | 2525 |
| Length, m | 106.0 pp 113.6 oa |
| Breadth, m | 12.0 |
| Draught, m | 4.00 hull 5.70 max |
| No of shafts | 2 |
| Machinery | CODOG: 2 General Electric-Fiat LM-2500 gas turbines / 2 GMT NSD A230-20M diesels |
| Power, h. p. | 50000 / 9900 |
| Max speed, kts | 35.2 |
| Fuel, t | diesel / gas turbine oil |
| Endurance, nm(kts) | 4350(16) |
| Armament | 8 x 1 Teseo SSM (8 Otomat), 1 x 8 Sea Sparrow SAM (8 RIM-7H), 1 x 1 - 127/54 OTO-Melara, 2 x 2 - 40/70 Breda-Bofors Compact Twin 40, 2 x 3 - 324 Mk 32 Mod. 9 TT, 1 helicopter (AB-212ASW) |
| Electronic equipment | SPN-748, SPQ-2F, SPS-774, Mk 91 Mod. 1, SPG-70, 2x SPG-74 radars, DE-1160B sonar, SLR-4 Newton, 2x SLQ-D ECM suites, 2x SCLAR decoy RL, SLQ-25 Nixie torpedo decoy, SADOC-2 (IPN-20) CCS |
| Complement | 184 |
Standard scale images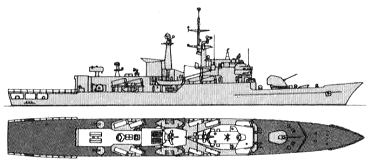 Lupo 1980
Graphics
Project history
These ships were originally described as modified Alpinos, taking the place of the two units planned but never built. A single lightweight 127mm/54 gun replaced the two forward 76mm/62s of the earlier ship, and close-in air defence was provided by a combination of missiles (the US Sea Sparrow system, rather the later Albatros with the Aspide missile) and twin 40mm guns. Presumably the Italian Navy thought, at thus time, that the missiles could deal with the aircraft threat, but that a very high rate of fire, not attainable by a 76mm gun, was needed to shoot down missiles. Later this position would reverse, with the appearance of the 76mm Super Rapid gun, firing twice as last as earlier weapons. With the appearance of the helicopter, the Menon mortar was no longer needed, and it was eliminated. As in Alpino, there was a helicopter hangar aft. This class and the contemporary Sparviero attack boat introduced the Otomat SSM to Italian service. Onginally there were eight separate Otomat box launchers, but with the advent of Otomat Mk 2 that was reduced to four pairs, alongside the forward and after superstructures.
Modernizations
1991, all: - 8 x 1 Teseo SSM; + 4 x 2 Teseo Mk 2 SSM (8 Otomat Mk 2), ability to launch Aspide SAM from Sea Sparrow launcher, SPS-702 radar
Naval service
No significant events.