NAVYPEDIA Support the project with paypal
Photo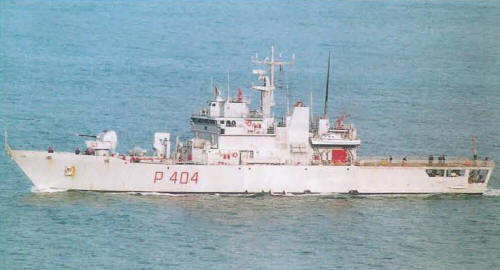 Vega 2001
Ships
| Name | No | Yard No | Builder | Laid down | Launched | Comp | Fate |
| --- | --- | --- | --- | --- | --- | --- | --- |
| Cassiopea | P401 |   | Fincantieri, Muggiano | 16.3.1987 | 19.7.1988 | 21.10.1989 | in service (2019) |
| Libra | P402 |   | Fincantieri, Muggiano | 16.3.1987 | 27.7.1988 | 23.3.1991 | in service (2019) |
| Spica | P403 |   | Fincantieri, Muggiano | 5.9.1988 | 27.5.1989 | 23.3.1991 | in service (2019) |
| Vega | P404 |   | Fincantieri, Muggiano | 30.6.1989 | 24.2.1990 | 8.5.1992 | in service (2019) |
Technical data
| | |
| --- | --- |
| Displacement standard, t | 1110 |
| Displacement full, t | 1475 |
| Length, m | 71.5 pp 79.8 oa |
| Breadth, m | 11.8 |
| Draught, m | 3.50 |
| No of shafts | 2 |
| Machinery | 2 GMT BL230-16 diesels |
| Power, h. p. | 7900 |
| Max speed, kts | 20 |
| Fuel, t | diesel oil 165 |
| Endurance, nm(kts) | 3300(16) |
| Armament | 1 x 1 - 76/62 MMI, 2 x 1 - 20/70 Mk 4, 1 helicopter (AB-212) |
| Electronic equipment | SPN-748, SPS-702, SPG-70 radars |
| Complement | 60 |
Standard scale images

Cassiopea 2000
Graphics
Project history
These corvettes are equivalent to US Coast Guard cutters. Their main armament and its fire control system were taken from the scrapped Bergamini class frigates. The class was authorized on 31 December 1982, and the first four units were paid for by the Ministry of the Merchant Marine. Plans for a further four did not materialize; the fifth unit (to have been named Orione) and the sixth were cancelled in 1991.
Modernizations
2000s, all: - 2 x 1 - 20/70; + 2 x 1 - 25/87 KBA25/80, 2 x 1 - 12.7/90

2017-2019, all: + Janus-N e/o system
Naval service
No significant events.
© 2007-2022 - navypedia.org