Photo

Carlo Bergamini 1974
Ships
| Name | No | Yard No | Builder | Laid down | Launched | Comm | Fate |
| --- | --- | --- | --- | --- | --- | --- | --- |
| Carlo Bergamini | F593 |   | CRDA, Monfalcone | 19.7.1959 | 16.6.1960 | 23.6.1962 | stricken 11.1981 |
| Virgilio Fasan | F594 |   | Navalmeccanica, Castellammare di Stabia | 6.3.1960 | 9.10.1960 | 10.10.1962 | stricken 12.1988 |
| Carlo Margottini | F595 |   | Navalmeccanica, Castellammare di Stabia | 26.5.1957 | 12.6.1960 | 5.5.1962 | stricken 5.1988 |
| Luigi Rizzo | F596 |   | Navalmeccanica, Castellammare di Stabia | 26.5.1957 | 6.3.1960 | 15.12.1961 | stricken 11.1980 |
Technical data
Displacement standard, t

1410

Displacement full, t

1650

Length, m

86.5 pp 94.0 oa

Breadth, m

11.4

Draught, m

3.10

No of shafts

2

Machinery

F593, 596: 4 Tosi diesels

F594, 595: 4 Fiat diesels

Power, h. p.

16000

Max speed, kts

25

Fuel, t

diesel oil

Endurance, nm(kts)
3000(18)
Armament

3 x 1 - 76/62 MMI, 2 x 3 - 324 TT, 1 x 1 - 305 Menon ASWRL, 1 helicopter (AB-204)

Electronic equipment
SPS-12, SPQ-2, RTN-10X radars, SQS-40 sonar, SPR-A ECM suite
Complement

163
Standard scale images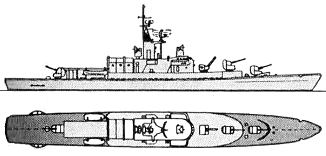 Carlo Bergamini 1963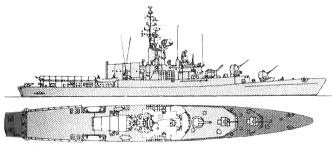 Carlo Bergamini 1979
Graphics
Project history
Although originally described as corvettes ('Corvette Veloci Tipo 2', or fast corvette Type 2), these ships were much closer to the faster frigates in ASW capability, and they were all re-rated as frigates. Even so, they were in effect replaced by the Minerva class corvettes. The last two ships listed were announced in June 1956 as part of the second five-year naval programme. Another pair was added that November. Work on Bergamini was suspended for a time in 1959 due to financial problems.

The main distinction between these 'fast corvettes' and the earlier frigates was their diesel powerplant, which limited their speed. The design initially called for three 76mm/62s ('A', 'B', 'X' positions), for a twin 40mm gun in 'Y' position, for two Menon single-barrel mortars side by side abaft 'B' position, and for three aft-firing 533mm torpedo tubes on the fantail. The fire control system was the new OG 3 with its Orion RTN-7X radar. In 1958, however, the Italian Navy decided that 76mm was the minimum calibre for a useful anti-aircraft weapon, and the twin 40mm gun was eliminated: one of the two Menon mortars replaced it. Then in 1960 the navy decided that an ASW helicopter, armed with a homing torpedo, was necessary to deal with modem fast submarines. The Menon aft was eliminated, the uptakes merged with the mast to form a 'mack', and a helicopter pad and telescopic hangar placed abaft the bridge structure. The fixed torpedo tubes were replaced by a pair of lightweight Mk 32 triple tubes (the first in the Italian Navy) for Mk 44 torpedoes. By this time the planned SQS-11 sonar had been superseded by the longer-range SQS-40 (a variant of SQS-4). The two single-barrel mortars abaft 'B' mount were replaced by a single mortar, which could lay down only a 7-round pattern. To make helicopter operation easier, the ships were fitted with fin stabilizers.
Modernizations
1968, Carlo Margottini; 1969, Virgilio Fasan; 1970, Carlo Bergamini; 1971, Luigi Rizzo: - 1 x 1 - 76/62, 1 AB-204 helicopter; + 1 AB-212 helicopter
Naval service
No significant events.