Photo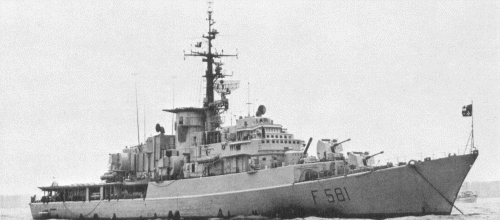 Carabiniere 1980
Ships
| Name | No | Yard No | Builder | Laid down | Launched | Comm | Fate |
| --- | --- | --- | --- | --- | --- | --- | --- |
| Alpino (ex-Circe) | F580, 2.1998- A5384 |   | CNR, Riva Trigoso | 27.2.1963 | 10.6.1967 | 14.1.1968 | minehunter support ship 1.1997, stricken 3.2006 |
| Carabiniere (ex-Climene) | F581 |   | CNR, Riva Trigoso | 9.1.1965 | 30.9.1967 | 28.4.1968 | used as trials ship from 1.1993, stricken 11.2008 |
Technical data
| | |
| --- | --- |
| Displacement standard, t | 2000 |
| Displacement full, t | 2700 |
| Length, m | 106.4 pp 113.3 oa |
| Breadth, m | 13.1 |
| Draught, m | 3.80 |
| No of shafts | 2 |
| Machinery | CODAG: 2 Tosi Metrovick G6 gas turbines + 4 Tosi diesels |
| Power, h. p. | 15000 + 16800 = 31800 |
| Max speed, kts | 29 |
| Fuel, t | diesel oil 275 |
| Endurance, nm(kts) | 3500(18) |
| Armament | 6 x 1 - 76/62 MMI, 2 x 3 - 324 TT, 1 x 1 - 305 Menon ASWRL, 2 helicopters (AB-212) |
| Electronic equipment | SPS-12, SPQ-2 (SPN-748), RTN-30X, 3x RTN-10X radars, SQS-43, SQA-10 VDS sonars, SPR-A ECM suite, 2x SCLAR decoy RL |
| Complement | 263 |
Standard scale images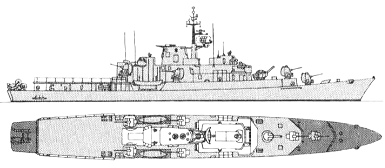 Alpino 1975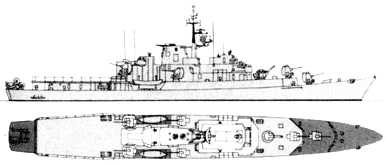 Alpino 1990

Carabiniere 2003

Alpino 2003
Graphics
Project history
These ships were conceived as improved Centauros; two each were included in the 1959-60 (Circe and Climene) and 1960-61 (Perseo and Polluce) programmes. In fact only the first two were ever built and their design was radically recast to parallel that of the Bergamini class. In 1963-65 the decision was taken to replace the planned steam plant (27,000shp) with a CODAG plant, based on experience with the modified destroyer leader San Giorgio and with a fast motor gunboat. Each shaft was powered by a pair of Tosi diesels and a Tosi-Metrovick G6 gas turbine; cruise speed on diesels alone was 24kts.

An official drawing of the original design for these ships shows single 76mm/62 mounts fore and aft, a single-barrel Menon mortar in 'B' position, and a pair of 40mm guns alongside a hangar for an AB-204 helicopter. The hull form was recognizably that of the earlier Centauro, with its dory bow. Unlike a Centauro, it had only a single funnel, which suggests that much higher steam conditions (or pressure firing) were planned. By this time the 40mm was being rejected, and by 1962 announced particulars of the design showed three 76mm guns, presumably two of them alongside the helicopter hangar and one forward. The gun abaft the hangar would have been eliminated to allow for enlargement, as in the Bergaminis. The ships emerged in 1968 with sharply raked bows (the first in Italian frigate practice), and with no fewer than six 76mm guns: two superfiring forward (with the mortar abaft 'B' position, as in the Bergamini class), and two on each side amidships. The director was the new NA-9, with three Orion radars (RTN-10X: one forward, one each side aft atop the hangar).

These ships introduced variable-depth sonar to Italian frigate practice. Given the shallowness of the surface layer in summer, VDS is essential.

The sonar selected, the US SQS-43, used the same electronic 'stack' to drive both hull and towed units.

Both ships were renamed (with destroyer names); the second pair were never built. In effect, their place in the rolling construction programme was taken by the first two Lupos.
Modernizations
1970s, both: + SLQ-A ECM suite

1985, Alpino; late 1980s, Carabiniere: - SQS-43, SQA-10 VDS sonars, SPR-A, SLQ-A ECM suites; + DE1164, DE1164 VDS sonars, SLQ-747 ECM suite

(4/1996-1/1997), Alpino: was converted to mine forces flagship; gas turbines were removed (4 Tosi OTV-320 diesels, 16800hp, 22kts); - 3 x 1 - 76/62, 2 x 3 - 324 TT, 1 x 1 - 305 Menon AWSRL, 1 helicopter, RTN-30X, 1x RTN-10X radars, 2x DE1164 sonars, SLQ-747 ECM suite; + 2 x 1 - 20/70 Mk 10, only 1 AB-212 helicopter was carried, SPS-702(v)3 radar, RIBs for divers, decompression chamber, diver-support crane, complement 163.

(7/1999-10/2000), Carabiniere: was converted to weapon trials ship; gas turbines were removed (4 Tosi OTV-320 diesels, 16800hp, 23kts); - 5 x 1 - 76/62, 1 x 1 - 305 Menon AWSRL, 2 helicopters, RTN-30X, 1x RTN-10X radars, 1x DE1164 VDS sonar; + 1 x 8 Sylver A43 VLS SAM (8 Aster-15), SPS-702(v)3, SPY-790 radars, complement 163.
Naval service
No significant events.