Photo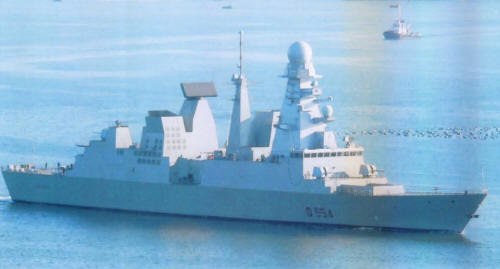 Caio Duilio 2008  
Ships
| Name | No | Yard No | Builder | Laid down | Launched | Comm | Fate |
| --- | --- | --- | --- | --- | --- | --- | --- |
| Andrea Doria (ex-Carlo Bergamini) | D553 |   | Fincantieri, Riva Trigoso | 19.7.2002 | 14.10.2005 | 22.12.2008 | in service (2019) |
| Caio Duilio | D554 |   | Fincantieri, Riva Trigoso | 19.9.2003 | 25.10.2007 | 3.4.2009 | in service (2019) |
Technical data
| | |
| --- | --- |
| Displacement standard, t | 5600 |
| Displacement full, t | 7050 |
| Length, m | 141.7 pp 152.9 oa |
| Breadth, m | 17.9 wl 20.3 oa |
| Draught, m | 5.40 mean hull 8.00 max |
| No of shafts | 2 |
| Machinery | CODOG: 2 General Electric-Fiat LM-2500 gas turbines / 2 SEMT-Pielstick 12 PA6B STC diesels |
| Power, h. p. | 56000 / 11750 |
| Max speed, kts | 29 |
| Fuel, t | diesel / gas turbine oil |
| Endurance, nm(kts) | 7000(18) |
| Armament | 2 x 4 Teseo Mk 2 SSM (8 Otomat Mk 2), 6 x 8 Sylver A50 SAM (32 Aster-30, 16 Aster-15), 3 x 1 - 76/62 OTO-Melara Compact SR, 2 x 1 - 25/87 KBA25/80, 2 - 324 B-515/3 TT (19 MU-90), 1 helicopter (AW-101 or NH90) |
| Electronic equipment | S1850M, SPY-790 EMPAR, 2x SPN-753, 2x NA-25XP, SPS-791 radars, DIBV-2A e/o detector, MFS-4110 sonar, JANEWS, 2x JASS ECM suites, 2x SCLAR-H decoy RL, 2x SLAT anti-torpedo systems, SEIC CCS |
| Complement | 200 |
Standard scale images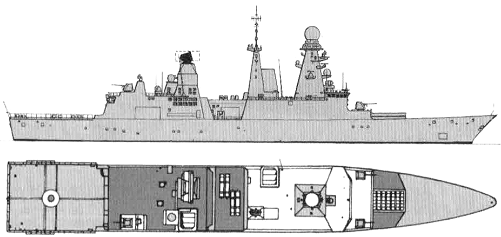 Andrea Doria 2010
Graphics
Project history
Are the result of a 1991 agreement made with France and the United Kingdom to design a ship acceptable to all three navies. An international joint-venture corporation, Horizon Ltd., was established in 1995 to build at least the initial units of the class for the three partner countries by the three prime contractors, GEC-Marconi. DCN International, and Orizzonte SpA. Italy originally planned to buy six ships, then four, to replace the Audace class destroyers and the two already-stricken Andrea Doria class cruisers. The program was reduced to two during 1993 because of the expense incurred in the purchase of the ex-Iraqi Lupo class frigates. The British pullout from the program in 1999 put the program in temporary limbo, but France and Italy agreed in 1999 to continue, and the first two were ordered 26.11.2000. France has built two similar ships as the Forbin class.
When carried, the 8 Teseo Mk 2 SSM are fitted in two quad launchers amidships. The class is fitted with the TC-ASIST helicopter landing system, and in addition to general utility duties, the helicopter can be used for ASW and for attacking surface ships with missiles. The 76mm mounts are installed two abreast forward and one atop the helicopter hangar. Fitted with the Vampir MB (Modular Bispectral) IR detection and tracking system.
Modernizations
None.
Naval service
No significant events.