Photo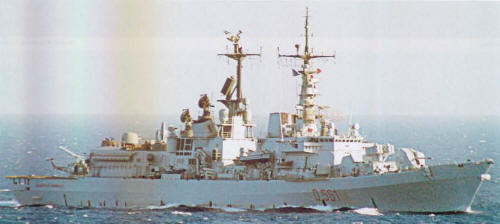 Francesco Mimbelli 2003  
Ships
| Name | No | Yard No | Builder | Laid down | Launched | Comm | Fate |
| --- | --- | --- | --- | --- | --- | --- | --- |
| Luigi Durand de la Penne (ex-Animoso) | D560 |   | Fincantieri, Riva Trigoso | 20.1.1988 | 29.10.1989 | 18.3.1993 | in service (2019) |
| Francesco Mimbelli (ex-Ardimentoso) | D561 |   | Fincantieri, Riva Trigoso | 3.12.1989 | 13.4.1991 | 19.10.1993 | in service (2019) |
Technical data
| | |
| --- | --- |
| Displacement standard, t | 4500 |
| Displacement full, t | 5400 |
| Length, m | 135.6 pp 147.7 oa |
| Breadth, m | 15.0 wl 16.1 oa |
| Draught, m | 5.10 hull 6.80 over sonar 7.10 over propellers |
| No of shafts | 2 |
| Machinery | CODOG: 2 General Electric-Fiat LM-2500 gas turbines / 2 GMT BL230-20 DVM diesels |
| Power, h. p. | 55000 / 12600 |
| Max speed, kts | 32 |
| Fuel, t | diesel / gas turbine oil |
| Endurance, nm(kts) | 7000(18) |
| Armament | 4 x 2 Teseo Mk 2 SSM (8 Otomat Mk 2), 1 x 1 Standard SM-1MR SAM (40 RIM-66), 1 x 8 Albatros SAM (16 Aspide), 1 x 1 -127/54 OTO-Melara Compact, 3 x 1 - 76/62 OTO-Melara Compact SR, 2 x 1 - 20/70 Mk 4, 2 x 3 - 324 Ilas 3 TT, 2 helicopters (2 AB-212ASW or 1 SH-3D) |
| Electronic equipment | SPN-748, SPN-703, SPS-702, SPS-774, SPS-768, SPS-52C, 2x SPG-51D, 3x SPG-76 radars, DE-1164, DE-1167 sonars, SLQ-732 Nettuno, SLQ-705 ECM suites, 2x Sagaie decoy RL, SLQ-25 Nixie torpedo decoy, SADOC-2 (IPN-20) CCS |
| Complement | 377 |
Standard scale images

Luigi Durand de la Penne 2000
Graphics
Project history
These destroyers were ordered in March 1986 to replace the old Impavido class. Originally named Animoso and Ardimentoso, they were renamed in 1992 to honour Second World War heroes. Their 127mm guns came from the 'B' positions of the modernized Audace class, which then carry a similar armament. The 76mm guns, Aspide missiles and four SPG-76 directors form an integrated close-in defensive system. The helicopter deck is large enough to accommodate the planned two EH-101 as well as the one large SH-3D.

A second pair was cancelled when Italy joined die Anglo-French 'Horizon' frigate programme. Four such ships were to have replaced the Audace class and the stricken Andrea Doria class cruisers. However, in December 1993 the second pair were cancelled to provide money to buy the four existing Lupo class frigates already built for Iraq.
Modernizations
2009, Francesco Mimbelli; 2012, Luigi Durand de la Penne: - 4 x 2 Teseo Mk 2 SSM (8 Otomat Mk 2), (2 AB-212 or 1 SH-3D) helicopters, SPN-748, SPN-703, SPS-768, SPS-774, SPS-52C radars, 2x Sagaie decoy RL; + 4 x 2 Teseo Mk 2A SSM (8 Otomat Mk 2A), Milas ASuM instead of part of Otomat Mk 2 SSM, 2 AW-101 helicopters, SPN-753, SPS-798, SPS-794 radars, IRST e/o detector, 2x SCLAR-H decoy RL
Naval service
No significant events.