Photo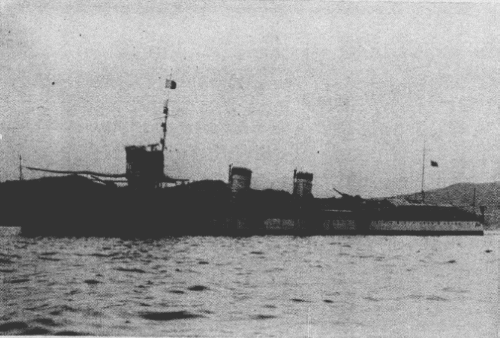 Audace
Ships
| Name | No | Yard No | Builder | Laid down | Launched | Comp | Fate |
| --- | --- | --- | --- | --- | --- | --- | --- |
| Audace (ex-Intrepido, ex-江風 [Kawakaze]) | AU, AD |   | Yarrow, Scotstoun, UK | 10.1913 | 27.9.1916 | 3.1917 | captured by Germany 12.9.1943 (TA20) |
Technical data
| | |
| --- | --- |
| Displacement normal, t | 922 |
| Displacement full, t | 1170 |
| Length, m | 83.9 wl 87.5 oa |
| Breadth, m | 8.30 |
| Draught, m | 2.50 normal 2.89 full load |
| No of shafts | 2 |
| Machinery | 2 Brown-Curtis steam turbines, 3 Yarrow boilers |
| Power, h. p. | 22000 |
| Max speed, kts | 30 |
| Fuel, t | oil 248 |
| Endurance, nm(kts) | 2180(15) |
| Armament | 7 x 1 - 102/35 S1914-1915, 2 x 1 - 40/39 V1915, 2 x 1 - 6.5/80, 2 x 2 - 450 TT |
| Complement | 118 |
Standard scale images

Audace 1917

Audace 1940
Graphics
Project history
Ordered by Japan in 1912 in UK as Kawakaze (together with Urakaze), but 3.7.1916 under the agreement between Japan and Italy she was transferred to latter and renamed. At first she was named Intrepido, but 25.9.1916 renamed Audace. The design provided mixed diesel-turbine machinery, however, as the order for cruising diesels has been placed in Germany, diesel leaved in Germany, and destroyer was commissioned with usual steam turbine machinery. On trials destroyer reached 34.5kts. Armament provided by the design (120mm and 76mm guns and 533mm TTs) was replaced by Italian models (7 102mm/35 guns and 2 twin 450mm TTs).

In September, 1929 ship was re-rated as torpedo boat. In 1938 she was arranged as a command and control ship for radio-controlled target San Marco. Thus both TTs were removed. To beginning of WWII speed was 28kts.
Modernizations
1938: - 2 x 2 - 450 TT

1942: - 5 x 1 - 102/35, 2 x 1 - 40/39; + 10 x 2 - 20/65 Breda 1935, 2 DCT
Naval service
Audace in September, 1943 was captured by German troops, renamed TA20 and sunk 1.11.1944 by gunfire of British escort destroyers Avon Vale and Wheatland in Adriatic sea.