Photo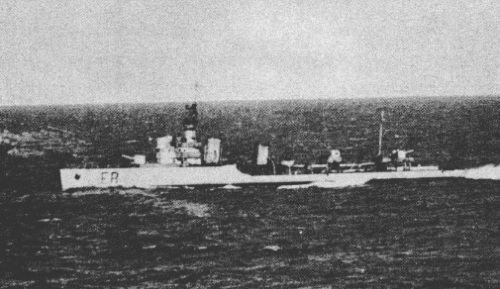 Euro
Ships
| Name | No | Yard No | Builder | Laid down | Launched | Comp | Fate |
| --- | --- | --- | --- | --- | --- | --- | --- |
| Aquilone | AL |   | Odero, Sestri Ponente | 5.1925 | 3.8.1927 | 12.1927 | sunk 17.9.1940 |
| Borea | BR |   | Ansaldo, Genoa | 4.1925 | 28.1.1927 | 11.1927 | sunk 17.9.1940 |
| Espero | ES |   | Ansaldo, Genoa | 4.1925 | 31.8.1927 | 4.1928 | sunk 28.6.1940 |
| Euro | ER |   | CT, Riva Trigoso | 1.1925 | 7.7.1927 | 12.1927 | sunk 1.10.1943 |
| Nembo | NB |   | CT, Riva Trigoso | 1.1925 | 27.1.1927 | 10.1927 | sunk 20.7.1940 |
| Ostro | OT |   | Ansaldo, Genoa | 4.1925 | 2.1.1928 | 6.1928 | sunk 20.7.1940 |
| Turbine | TB |   | Odero, Sestri Ponente | 3.1925 | 21.4.1927 | 8.1927 | captured by Germany 9.9.1943 (TA14) |
| Zeffiro | ZF |   | Ansaldo, Genoa | 4.1925 | 27.5.1927 | 5.1928 | sunk 5.7.1940 |
Technical data
| | |
| --- | --- |
| Displacement standard, t | 1220 |
| Displacement full, t | 1670 |
| Length, m | 91.3 pp 93.2 oa |
| Breadth, m | 9.20 |
| Draught, m | 3.00 |
| No of shafts | 2 |
| Machinery | 2 sets Parsons geared steam turbines, 3 Thornycroft boilers |
| Power, h. p. | 40000 |
| Max speed, kts | 36 |
| Fuel, t | oil 400 |
| Endurance, nm(kts) | 3200(14) |
| Armament | 2 x 2 - 120/45 OTO 1926, 2 x 1 - 40/39 Vickers-terni 1917, 1 x 2 - 13.2/76, 2 x 3 - 533 TT, 52 mines |
| Complement | 142 - 179 |
Standard scale images

Espero 1940
Graphics
Project history
Odero design. Development of Sauro, at the expense of insignificant increasing of the hull it was possible to install more powerful machinery, that has ensured a speed increment in 1kt. Additional side fuel tanks allowed to raise fuel stowage. As well as on the previous classes, they had a significant overload (design standard displacement was 1073t). On trials all have exceeded contract speed, but at full load reached no more than 33kts.
Modernizations
1939 - 1940, Euro, Turbine: - 2 x 1 - 40/39; + 4 x 2 - 20/65 Breda 1935, 2 DCT

1942, Turbine: - 1 x 3 - 533 TT; + 2 x 1 - 37/54 Breda 1939
Naval service
Espero was sunk by gunfire of Australian cruiser Sydney 28.6.1940 W off Crete. Zeffiro, Nembo and Ostro 20.7.1940 were sunk by British aircraft at Tobruk. Aquilone 17.9.1940 was stricken by magnetic mines laid by British aircraft at Bengasi. Borea 17.9.1940 was sunk by British aircraft at Bengasi. Euro 1.10.1943 was hard damaged by German air bombs and has sunk at coast of Leros (Aegean sea). Turbine in September, 1943 was captured by German troops, renamed TA14 and sunk by American bombers at Salamis 15.10.1944.