Photo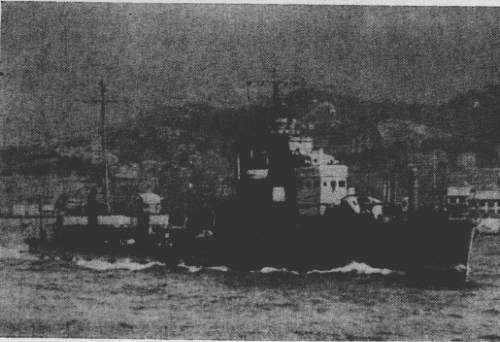 Dardo
Ships
| Name | No | Yard No | Builder | Laid down | Launched | Comp | Fate |
| --- | --- | --- | --- | --- | --- | --- | --- |
| Dardo | DR, DA |   | Odero, Sestri Ponente | 1.1929 | 6.9.1930 | 1.1932 | captured by Germany 9.9.1943 (TA31) |
| Freccia | FE, FR |   | CT, Riva Trigoso | 2.1929 | 3.8.1930 | 10.1931 | sunk 8.8.1943 |
| Saetta | SA |   | CT, Riva Trigoso | 5.1929 | 17.1.1932 | 5.1932 | sunk 3.2.1943 |
| Strale | ST |   | Odero, Sestri Ponente | 2.1929 | 26.3.1931 | 2.1932 | damaged 21.6.1942, repair incomplete |
Technical data
Displacement standard, t
1400
Displacement full, t
2116
Length, m

Dardo, Strale: 92.2 pp 94.1 oa

Freccia, Saetta: 92.2 pp 96.2 oa

Breadth, m

9.75

Draught, m

3.15

No of shafts

2

Machinery

2 sets Parsons geared steam turbines, 3 Thornycroft boilers

Power, h. p.

44000

Max speed, kts

38

Fuel, t

oil 630

Endurance, nm(kts)
3600(12)
Armament

2 x 2 - 120/50 Ansaldo 1926, 2 x 1 - 40/39 Vickers-Terni 1917, 2 x 2 - 13.2/76, 2 x 3 - 533 TT, 2 DCT, 54 mines

Electronic equipment
hydrophone
Complement

156 - 185
Standard scale images

Dardo 1940

Saetta 1942
Graphics
Project history
Built under the 1928 programme and intended for joint actions with Zara class cruisers, in this connection to them increased requirements on speed and endurance were shown. The design was developed on the basis of Turbine class, but with more powerful machinery, new 120mm guns and additional side oil fuel tanks. All it has led to increase in ship dimensions, basically breadth. From the predecessors Dardo and Strale have inherited also the straight stem changed on two others on more graceful yacht-shaped, called to moderate deck wetness of a fore end. On an early design stage presence of two funnels, as well as on Turbine, was provided, but for purpose of cleaning of a place for more effective arrangement of AA armament, smoke ducts from all three boilers have pooled into one massive funnel, which has become the original kind of all subsequent Italian destroyers and torpedo boats.

The low stability called both by application of side oil fuel tanks and in increased weight of armament and fire control systems, has appeared basic lack of the design. It was especially badly at expending of majority of the fuel, therefore in practice it was necessary to leave a part of fuel stowage in tanks that shrank an endurance. Subsequently they began to apply replacement of the fuel by water, that, in turn, affected quality of fuel. Besides a liquid ballast, all four ships received on 90-100t of the solid ballast and have established side keels, that together with building overload has led to growth of standard displacement from 1205 to almost 1400t and serious loss of the speed. In real service conditions these destroyers seldom could exceed 30kts.
Modernizations
1939 - 1940, all: - 2 x 1 - 40/39, 2 x 2 - 13.2/76; + (5 - 6) x 1 - 20/65 Breda 1939/1940, 2 DCT

1942 - 1943, Dardo, Freccia, Saetta: - 3 x 1 - 20/65, 1 x 3 - 533 TT; + 2 x 1 - 37/54 Breda 1939, 3 x 2 - 20/70 Scotti-Isotta Fraschini 1939
Naval service
Strale 21.6.1942, repulsing aircraft attack, ran on the rocks at coast of Tunisia. She was finished 6.8.1942 by British submarine Turbulent. Saetta 3.2.1943 was sunk by mines laid by British minelayer Abdiel in the central Mediterranean. Freccia 8.8.1943 was sunk by British bombers at Genoa. Dardo was captured at Genoa in September, 1943 by German troops, renamed TA31 and scuttled at the same place 24.4.1945.