Photo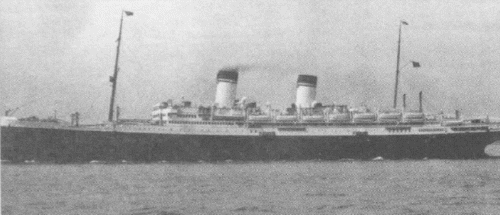 Augustus
Ships
| Name | No | Yard No | Builder | Laid down | Launched | Comp | Fate |
| --- | --- | --- | --- | --- | --- | --- | --- |
| Sparviero (ex-Falco, ex-Augustus) |   |   | Ansaldo, Genoa | 1924 | 13.12.1926 | 10.1927 // --- | conversion incomplete |
Technical data
| | |
| --- | --- |
| Displacement standard, t | 23000 |
| Displacement full, t |   |
| Length, m | 202.4 wl |
| Breadth, m | 25.3 wl 30 max |
| Draught, m | 9.20 mean |
| No of shafts | 4 |
| Machinery | 4 MAN diesels |
| Power, h. p. | 28000 |
| Max speed, kts | 18 |
| Fuel, t | diesel oil |
| Endurance, nm(kts) |   |
| Armour, mm | belt: 90 + 30 |
| Armament | 6 x 1 - 152/45 Ansaldo 1911, 4 x 1 - 102/35 Schneider-Armstrong 1914-15, some small AA guns, 25 - 30 aircraft (Re.2001) |
| Complement |   |
Air group
| Year | 1944 (planned) |
| --- | --- |
| fighters | 25 Re.2001 or 30 Re.2001G |
Standard scale images

Sparviero
Graphics
Aircraft facilities
(fd - 3,750m², ha - ? m² / ~ ? m³): Flight deck: 150.0x25.0m. Hangar: ?m. Two elevators, may were 2 catapults of K-252 type. Aircraft fuel stowage: unknown.
Project history
Former passenger liner Augustus (30418BRT). She was close on liner Roma, but unlike the latter had diesel machinery. The project of conversion of Augustus to an aircraft carrier has been developed in 1936, however for some reasons conversion was cancelled. Again it was returned to idea of conversion in 1942. One time it was wished to conduct conversion similar to Aquila, but very soon design was converted to the pre-war project, only insignificant modified. She was named Falco and soon Sparviero.

The amount of works on Sparviero was planned much smaller, than on Aquila. The hull below an upper deck has not undergone some appreciable changes, except installation of bulges abreast machinery, called also to ensure a stability. Machinery remained unchanged.

On an upper deck the single-level hangar was positioned, at which forming old superstructures were partially used. The flight deck (~150x25m) was connected to a hangar by two elevators. Aircraft launch should be realised, apparently, by means of a catapult, however exact data in this respect are not present.

Conversion was started by Ansaldo in September 1942. Works on conversion by September, 1943 were advanced rather slightly. Sparviero was captured at Genoa 9.9.1943 by German troops. She was scuttled by Germans 5.10.1944 at the same place as a breakwater. She was raised in 1946 and BU in 1947.
Ship protection
There can be main belt (90mm), bulges would had 30mm outer plating.