Photo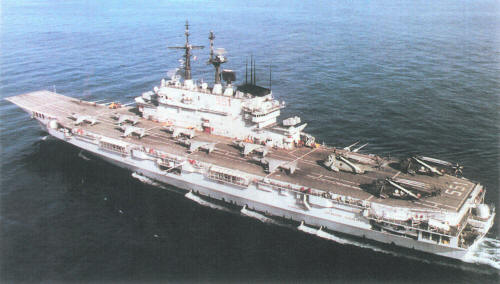 Giuseppe Garibaldi 2002
Ships
| Name | No | Yard No | Builder | Laid down | Launched | Comp | Fate |
| --- | --- | --- | --- | --- | --- | --- | --- |
| Giuseppe Garibaldi | C551 |   | Italcantieri, Monfalcone | 26.3.1981 | 4.6.1983 | 30.9.1985 | in service (2019) |
Technical data
| | |
| --- | --- |
| Displacement standard, t | 10100 |
| Displacement full, t | 13850 |
| Length, m | 162.8 pp 173.8 wl 180.2 oa |
| Breadth, m | 23.8 wl 30.4 fd |
| Draught, m | 6.70 mean 8.20 over sonar |
| No of shafts | 2 |
| Machinery | 4 General Electric-Fiat LM2500 gas turbines |
| Power, h. p. | 80000 |
| Max speed, kts | 29.5 |
| Fuel, t | gas turbine oil |
| Endurance, nm(kts) | 7000(20) |
| Armament | 4 x 1 Otomat SSM (4 Otomat), 2 x 8 Albatros SAM (48 Aspide), 3 x 2 - 40/70 OTO-Breda Compact Twin 40, 2 x 3 - 324 B-515 TT, 11 - 16 aircraft (AV-8B+ Harrier attackers, Sea King helicopters) |
| Military load | 400 troops |
| Electronic equipment | SPN-749(v)2, SPS-702, SPS-768, SPS-774, SPS-52C, 3x SPG-74, 3x SPG-75, SPN-728(v)1 radars, DE1160 sonar, SLQ-732 Nettuno ECM suite, 2x SCLAR decoy RL, SLQ-25 Nixie torpedo decoy, IPN-20 (SADOC 2) CCS |
| Complement | 780 + 45 flag staff |
Air group
| Year | VSTOL attackers | Helicopters |
| --- | --- | --- |
| 1990 | --- | 16 SH-3D Sea King |
| 2005 | 6 AV-8B Harrier | 4 SH-3D Sea King |
| 2012 | 10 AV-8B+ Harrier | 1 SH-3D Sea King |
| 2017, var. 1 | 10 AV-8B+ Harrier | 1 AW101 AEW Merlin |
| 2017, var. 2 | --- | 18 AW101 Merlin, AW101 AEW Merlin, NH90 NFH |
Standard scale images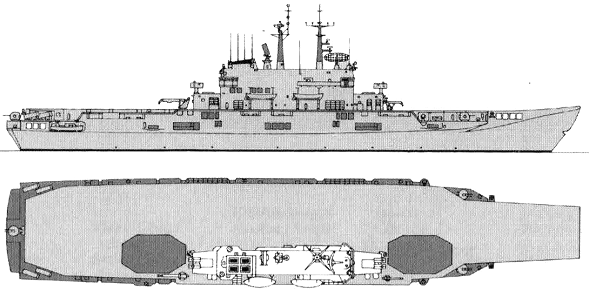 Giuseppe Garibaldi 1990
Graphics
Aircraft facilities
(fd - 5,000m², ha - 1,650m² / 9,900m³): Flight deck: 173.8x30.4m. Hangar: 110.0x15.0x6.00m. Two elevators, each (18.0x10.0m, 15t). There is 6.5°-inclined, 28.5m-long ski-jump.
Project history
The first Italian aircraft carrier, this ship was originally limited in its capabilities by a law dating from 1923 preventing the Italian Navy from operating combat aircraft from ships. When this law was changed in 1992, sixteen AV-8B+ were purchased. The design envisaged VSTOL aircraft operations, since it ultimately included a ski-jump ramp forward. The hangar can accommodate either twelve SH-3D Sea King helicopters or ten AV-8B and one Sea King. Garibaldi was ordered on 20 February 1978, and began sea trials on 3 December 1984. She is equipped as a fleet flagship and also serves as an 'interpreter' between the on-shore Italian air defence system and deployed ships (their electronic data links are not compatible with the land-based system). Like the British Invincible class she can carry troops.
Modernizations
late 1980s: - 4 x 1 Otomat Mk 1 SSM; + 4 x 2 Teseo Mk 2 SSM (8 Otomat Mk 2)

2004: - 4 x 2 Teseo Mk 2 SSM, SPN-728(v)1, SPN-749(v)2 radars, DE1160 sonar; + SPS-753 radar, DMS 2000 sonar, SLAT anti-torpedo system
Naval service
No significant events.